City of Belmont Historical Society Museum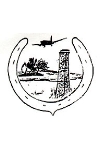 The Museum has a collection of items relating to the local history of the the districts within the City of Belmont and resides in a purpose-built building, in early colonial style. The collections cover household items and early industries, with a special interest in horse racing. "Hands-on" activities are provided for school groups, which involves the use of early days equipment.
Address:
61 Elizabeth Street, Belmont, WA
Hours:
Sunday 2-5pm/ Groups by appointment.
Admission:
Adults $1, Children 50c, Family (2+2) $2.
Facilities:
Wheelchair access to building and toilets, souvenirs and books for sale, cold drinks, tea and coffee, education programme, tours by request, brochures, archival material on request.
Collection:
approx. 600 photographs covering all aspects of the life and times of citizens - buildings of the area, items of everyday use in home, work and play.
Items
Wedding Dress
Wedding Dress
Description:
Heavy cream satin, leg of mutton sleeves with pleating, Worn by Mrs Stephen Craig of Craigs Poultry Farm, Belmont and Tomato Lake Kewdale.
Photograph
W.A. Turf Club Committee
Description:
48 inches x 36 inches. Official photo of committee (Ascot Racecourse, headquarters of WA racing) black and white.
Commemorative Ware
1914-18
Description:
Fine egyptian-type cream silk, embroided flags of all participating countries.
Violin
Violin
Description:
Violin in black wooden case, made in England by Mr Wilson and played at performances in Australia and England by maker.
Table and Charis
Table and Chairs.
Description:
12ft x 3.5ft jarrah table with 4 drawers each side. Seven brown leather swivel chairs. Original furniture of from the Belmont Road Board Members Room.