John Curtin Prime Ministerial Library
The JCPML has been established to honour the contribution to Australia of its wartime Prime Minister and international statesman, John Curtin, the Prime Minister whose inspirational leadership and political courage unified Australia during the grim years of World War II.
Situated on the grounds of Curtin University of Technology in Perth, the library is a purpose built archival and educational facility providing secure and environmentally stable storage for the preservation of unique material and appropriately designed facilities for researchers.
The JCPML's major exhibition 'John Curtin's Legacy: Leading Australia from War to Peace', is on display in the JCPML Wesfarmers Gallery. The exhibition looks at the seeds planted by John Curtin during his prime ministership in
such areas as the economy, immigration and foreign policy and how they grew through the early postwar years under Ben Chifley to become the foundation fabric of today's Australia. It was John Curtin's government which put in
place the mechanisms for federal control and instigated policies which allowed Australia to participate in the global economy.
The JCPML offers an exciting education program for students including exhibition tours and hands on activities. An ongoing program of public lectures, talks, temporary exhibitions, film screenings and other events is also offered by the JCPML.
Address:
Curtin University of Technology, Kent Street, Bentley, WA
Hours:
Exhibition - 'John Curtin's Legacy: Leading Australia from War to Peace' is
open Tuesday - Friday 10.30am - 5pm and Sunday 1pm - 5pm. JCPML Challenge
Bank Reading Room is open Mon-Fri 10am-4pm.
Facilities:
Wheelchair access, reference library, lecture hall, guided tours, education programs, brochures available.
Collection:
The collection is for research use and includes personal papers, oral histories, photographs, realia, ephemera, newsreel film footage, copies of official records and other archival material. Initially the collection focus is on aspects of Australia's history and politics connected with the life and times of John Curtin. The John Curtin Prime Ministerial Library has digitised material in its own collection and dispersed John-Curtin related materials held around the world and now provides electronic access to these items through the JCPML Electronic Research Archive (ERA). ERA is available via the JCPML home pages.
Items
Letter
Letter from John Curtin to Miss Irene Anderson 1943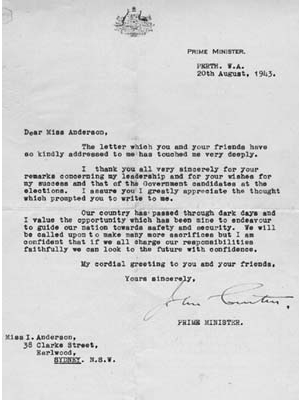 Description:
Miss Anderson wrote to Prime Minister John Curtin during the war, expressing her admiration of his efforts and a number of her friends also signed the letter. Within a short time, Mr Curtin replied in this single page, typewritten on Commonwealth Government letterhead.
Item Id Number:
JCPML 00142
Briefcase
John Curtin's Briefcase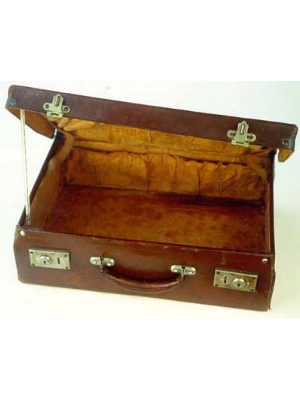 Description:
John Curtin used this briefcase during his time as Prime Minister (1941-45). The briefcase is a simple brown leather case with John Curtin's name in gold lettering. There is also a leather strap and a pen nib was found in an inside pocket.
Item Id Number:
JCPML 00288
Perth, Canberra, Melbourne
Photograph
John and Elsie Curtin with John Junior and Elsie Junior.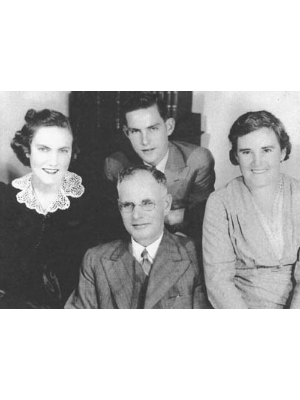 Description:
This photograph is a black and white photograph of the Curtin Family. It is part of the Curtin Family Album, donated by Mrs Elsie Macleod, John Curtin's daughter.
Item Id Number:
JCPML 00004/20
Manuscript
Eulogy written by the Reverend Hector Harrison for John Curtin's funeral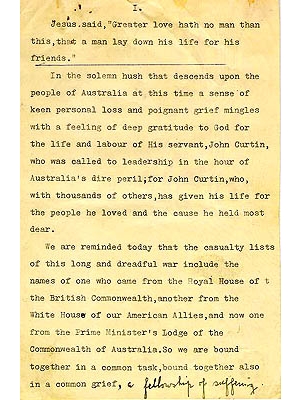 Creator:
Reverend Hector Harrison
Description:
In the weeks before his death, Curtin agreed to a state funeral and requested that a Christian service be conducted by his good friend, the Reverend Hector Harrison. The eulogy consists of five typed pages with hand written amendments.
Item Id Number:
JCPML00020
Pocket Watch
Gold pocket watch presented to John Curtin by Labor friends
Creator:
John Curtin (provenance)
Description:
John Curtin attended the Sixth International Labour Organisation Conference in Geneva in 1924, during his period as editor of the Labor newspaper "The Westralian Worker". Inscription reads "Presented to John Curtin by Labor friends on the eve of his departure as Australia's Labor representative to the Geneva Conference 1924".
Item Id Number:
JCPML00287/4