Kalamunda History Village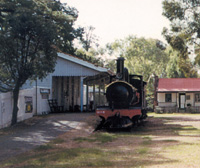 Kalamunda History Village is a local history museum on the site of the original Kalamunda railway station yard. The two original station buildings and platform are listed as buildings of significance by the National trust of Australia. To this site the original Kalamunda School, the first two Post Offices and three domestic buildings have been relocated as well. Hence a village-like atmosphere is created around the station yard.
Three domestic buildings: a pioneer's cottage dated at 1881 (off site), a 1900s settler's cottage and a 1920's guest house are presented as period houses. A school room has been restored as a pre WW11 classroom and is used as such for school visits.
Transport used in the area from the time of settlement to mid 1900's is well represented with a steam locomotive, horse drawn carts, farm machinery, fire truck and road graders.
Address:
56 Railway Road (access off Williams Street), Kalamunda, WA
Hours:
Monday - Thursday 10:00am-3:00pm; Saturday 10:00am-3:00pm; Sunday 1:30pm - 4:30pm.
Admission:
Adult $5.00, Senior $4.00, Child $1.00
Facilities:
Wheelchair access, shop, tours, education program, research service
Collection:
The collection is focused on the Kalamunda district from earliest settlement to 1961 when Darling Range Roads Board became the Shire of Kalamunda. Specific topics are collected such as artefacts and information on significant people, businesses and land usage. The collection covers all aspects of local social history. A comprehensive archive and photographic collection are housed in the Local Studies room of the Kalamunda Library.
Items
Building
Kalamunda Train Station and Locomotive
Description:
Original station building on Zig-Zag Railway line.
Building
Kalamunda Post Office
Description:
Kalamaunda's first post office, located now in the History Village.
Building
McCullagh Cottage
Description:
This is a settler's cottage built in the early 20th century and relocated to History Village.
Building
Chambers House
Description:
Chambers House was built in 1921 and has been set up to represent a guest house in Kalamunda similar to those popular during the 1920s and 1930s.