Goldfields Exhibition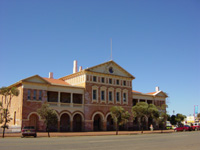 The exhibition is an extensive display of objects and images relating to the history of Coolgardie, particularly the gold mining boom of the 1890s. The exhibit extends over two floors and more than a dozen rooms and features hand-made tools and furniture from the early gold mining days such as the Coolgardie Safe, tin water bottles and seats made from kerosene tins. Other significant materials on display are clothing and memorabilia from Afghan camel herders, indigenous artefacts, a large diorama of the town in its heyday, rocks, mining equipment such as the local dryblowers and much more. The exhibition is situated in the Warden's Court, the stately old courthouse building used by the goldfields mining warden; a building designed by George Poole Temple and constructed in 1898 room local pink stone. The courtroom features one of Australia's largest bottle collections, the Waghorn collection, displayed in upright showcases, dramatically backlit and artistically arranged according to colour and shape.
Address:
Warden's Court, 62 Bayley Street, Coolgardie, WA
Admission:
Adult $4.00, Pensioner $3.00, Child $1.10
Collection:
An extensive collection of objects relating to Coolgardie's mining boom of the 1890s and the social and cultural life of the area. The collection features 'Make do' furniture, camel harnesses, mining tools and equipment and indigenous artefacts.