Kealley's Gemstone Museum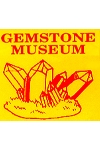 To me, the collections I have are all important, there is something most visitors are interested in, for example; utensils from yesteryear, information cards (with clearly typed details), most gemstones, stamps and shells (under glass). I have also written a small book on WA stones and where I got them
Address:
125 Warren Road, Nannup, WA
Hours:
8am - 12 noon, 1pm - 5.30pm, closed Wednesday.
Collection:
The private collection has been put together over many years. The hours that have been spent cutting, polishing and displaying the gemstones are too numerous to mention except to say it's a labour of love.