Toodyay Historical Society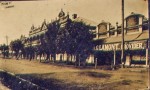 WHERE IS TOODYAY?
Toodyay is a designated Historic Town one hour's drive from Perth in Western Australia's Central Wheat Belt.
The first town site was established in 1836.
James Drummond seems to have been the first to record the area's name. Apparently his native guide informed him the place was called 'Duidgee'. This was gradually changed to 'Toodyay' by the newcomers.
FEATURES OF TOODYAY'S COLONIAL HISTORY
Colonial explorers including Ensign Dale, George Fletcher Moore, Dempsters, Drummonds, Lefroy and Gregory.
'Parkhurst Boys' and other immigrant labour;
Convict Depot and Enrolled Pensioner Guard establishment;
the move to the current town site, first known as Newcastle;
wine industry and farming - the food bowl of the colony.
Well-known botanist James Drummond lived and worked in the area.
Bushranger Moondyne Joe also spent considerable periods in the area.
TOODYAY HISTORICAL SOCIETY ACTIVITIES
The Toodyay Historical Society, founded 1980, is based in Donegan's Cottage, part of a unique precinct of 1890s workmen's cottages in the vicinity of the Showground.
Activities include:
(1) Promoting the maintenance of Toodyay's character through the preservation and restoration of its historic buildings and settings;
(2) Regular lectures, discussions and excursions to historic sites to promote awareness of Toodyay's history;
(3) Encouraging research and writing on the history of Toodyay in conjunction with an occasional publications program.
(4) Meetings 7pm on third Wednesday each month.
Address:
Showground, Toodyay Street, Toodyay WA 6566, Australia
Hours:
Thursdays 1-3 pm
Other times by appointment.
Meetings 7pm, third Wednesday of the month.
Facilities:
The Society operates from Donegan's Cottage in the Showground. From Perth, drive through main street, over Newcastle Bridge and turn left at Toodyay Street.
Research assistance and limited research facilities available. Selection of local historical publications on sale.
Plenty of parking for those arriving by car.
A 15 minute walk from the Railway Station, past the Visitors' Centre & Connors Mill, then over Newcastle Bridge to the Showground.
Picnic facilities available in Duidgee Park on town side of Newcastle Bridge.
Collection:
The Society maintains a growing collection of books, photographs, documents and information relating to the history of the Toodyay area.