National Library of Australia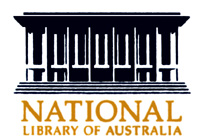 The National Library of Australia is the country's largest library and one of its leading research and reference libraries. As a major cultural institution, the National Library's role is to maintain and develop a national collection of library material to record the documentary heritage of all Australians, and to make those collections available for all Australians to use. The National Library was designed by Sydney architect Walter Bunning. It is situated on the shores of Lake Burley Griffin in Canberra, Australia's National Capital. With Parliament House and the National Gallery of Australia, it forms one apex of what is known as the Parliamentary Triangle.

The National Library of Australia is the country's largest reference library. Our role is to ensure that documentary resources of national significance relating to Australia and the Australian people, as well as significant non-Australian library materials, are collected, preserved and made accessible either through the Library itself or through collaborative arrangements with other libraries and information providers.
By offering a strong national focus in all that we do and cooperating with others who share our goals, the Library contributes to the continuing vitality of Australia's culture and heritage
Address:
Parkes Place, beside Lake Burley Griffin, Parkes, ACT
Hours:
Main Reading Room: Monday - Thursday 9.00am - 9.00pm, Friday - Saturday 9.00am - 5.00pm, Sunday 1.30pm - 5.00pm. National Library Gallery 9.00am - 5.00pm daily. Check website for special reading rooms and other areas.
Facilities:
Visitor information centre, cloak room, telephones, internet and email access, tours, venue hire, bookshop, on and off-site access to the collections, facilities for disabled visitors.
Collection:
Under the terms of the National Library Act, 1960 we are responsible for preserving a comprehensive collection of documentary materials relating to Australia and Australians. Our collections of Australiana have developed into the nation's single most important resource of materials recording the Australian cultural heritage. We also have considerable collections of general overseas and rare book materials, as well as world-class Asian and Pacific Collections which augment our Australiana collections.