Scone and Upper Hunter Historical Society Museum
Buildings include; the old lockup and residence (1870) which houses the museum; and the Sergeant's Residence which is the research centre. Next door is the old Court House (pre 1900). The society researches and publishes historical material relevant to Scone and district, creates special exhibitions (Australia Day, Horse Festival) and collects material relevant to the district.
Address:
Kingdon Street, Scone, NSW
Hours:
Wednesdays 9.30-2.30, Sunday 2.30-4.30
Admission:
Adults $2, Child 50c, Family $5
Facilities:
Research (Wednesdays), guided walks and tours by arrangement
Collection:
Estimated 20,000 objects plus records and photographs.
Items
Washing Machine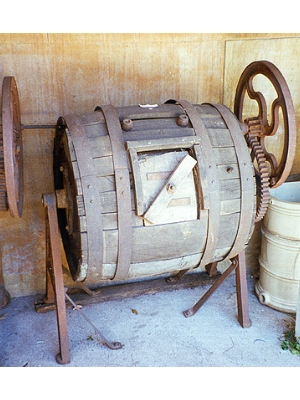 Creator:
Possibly made in Maitland District
Description:
Barrel mounted on cast iron frame, with handle to turn square lid
Water Filter
Dripstone Filter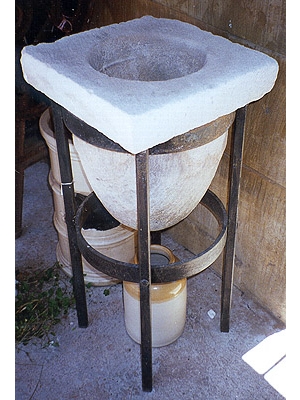 Description:
Sandstone cone on sand used to filter dirty water
Display, women's work
Description:
Display for exhibition of laundry items and model in costume
Model
Moonan Flat School Model
Creator:
Mr Rex Collison 1976
Description:
First Moonan Flat school, model made from description, from wood and bark..
Cot and Doll
Iron frame cot, bedding, doll
Description:
Iron Cot used by Flemming Family of Russley, in India, with curtains, bedding and celluloid doll belonging to Lindsay family.
Item Id Number:
1966-194, 1992-61