Powerhouse Museum Research Library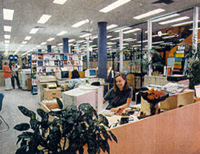 The Powerhouse Museum Research Library collection, services and staff expertise provide a rich research resource for museum staff, library visitors and colleagues in the cultural sector. The Research Library collection dates from the establishment of the museum in 1880. The collection is diverse and reflects the changing research requirements from the past and anticipates future research needs. The library collects to support exhibition development, publication production, education programmes, museology and corporate information needs.
Address:
84 Mary Ann Street, Ultimo, NSW
Hours:
Open to the public by appointment Monday - Friday 9:00am - 5:00pm.
Collection:
The research Library collection reflects the interests of the museum, with strengths in aircraft history, antiques, astronomy, Australian history, ceramics, computer history, fashion and textiles, crafts, design, glass, industrial design, jewellery, motor vehicle history, museology, musical instruments, numismatics, philately, railway history, space exploration and technology. There are collections of exhibition catalogues, trade literature and store catalogues.

The library's online catalogue is available on the museum's website as well as an enquiry box.