Quilt No.1086LDA - La Dona Anick
Description:
Red and white cross stitch quilt. Central white panel with red cross stitch embroidery featuring flowers and leaves. Red panels as borders with white embroidery, also flowers and leaves. Machine pieced. Hand quilted in an espalier pattern. There is a fine padding and the backing is homespun. 2200 x 1970mm
History:
The quilt has always been owned by La Dona Anick. It was given to her as a wedding gift in the USA in 1953 by her mother-in-law Rose Mary Anick. "It has followed me half way around the world in my moving about." [La Dona Anick] It is not used.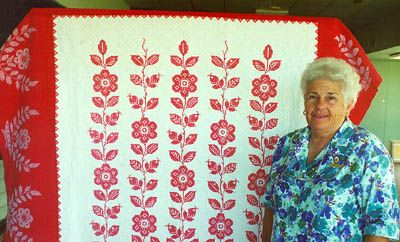 Related Quilts:

Patchwork quilt has three centre squares, one in blue/white/brown in a cross pattern, one in framed square, one with diagonal strips in a pink frame. The rest of the quilt is made from strips of rectangles in different sizes sewn in rows. There is a narrow pieced frame, then an outer border of pieced rectangles. Mostly pastel colours. No padding. Backing is calico. There is a little embroidery.
2160 x 1601mm

Hexagon quilt constructed over papers; all seams oversewn with featherstitch embroidery. Materials are vyella and clydella scraps from childhood dresses of the maker's first four children, augmented with scraps from a dressmaker and a book of samples. There is no padding; backing is plain, pale blue, brushed cotton.
2200 x 1720 mm.

Quilt made of 9120 very small Suffolk Puffs, each one about the size of a 20 cent piece. "Each piece backed and the front of it drawn up like a reticule. It was not backed and was rather fragile, so I backed it on to a sheet, as it was heavy and in danger of tearing when lifted." [Gillian Sullivan]
2360 x 2230 mm

Machine pieced top of squares of part jumpers, most hand knitted. The padding is a blanket. The backing is an old curtain.
1735 x 1350mm

Patchwork quilt, machine construction in pink and white twill cotton, log cabin pattern. Each log cabin block was constructed with the backing in place, in groups of 4 blocks placed together. Each block 200mm in size.
2300 x 2050mm

Patchwork cot quilt made from hexagons 63mm across in a variety of cotton prints and plains. The bright coloured patches came from children's clothes and dressmaking scraps. No padding. Backing of unbleached calico. Hand sewn.
1524 x 1169mm