Quilt No.118NTQ - National Trust of Australia (QLD)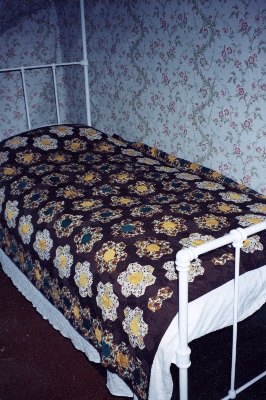 Description:
Quilt of hexagons on a brown cotton background. Hexagons form rosettes, 6 in patterned cotton around a plain coloured center. 2 outside rows of the same patter. Hand constructed.
1697 x 1259mm
Related Quilts:

Friendship Quilt'. All cotton with thick cotton padding. Each of the large panels of patchwork is different and many are signed by the makers who belonged to the Rebecca Lodge in Linwood California. Dates on the squares with signatures are 1933. Wide variety of colours and patterned and plain fabrics. The quilt is now in 2 pieces.
1981 x 1727mm

Suffolk Puff quilt with puffs mainly in patterned cotton pieces saved from 60 years of household sewing. Puffs are formed into rosettes and the holes are on the top making a decorative feature. It is hand sewn.
2700 x 2400mm.

Machine made cotton quilt with 100mm cotton squares placed diagonally with peaks running around the edge. The colours are mainly autiumn tones and the patterns include checks, tartans, florals, geometric and plains. Materials were scraps left over from sewing projects such as children's clothes. There is a matching valance.

Hexagon quilt constructed over papers; all seams oversewn with featherstitch embroidery. Materials are vyella and clydella scraps from childhood dresses of the maker's first four children, augmented with scraps from a dressmaker and a book of samples. There is no padding; backing is plain, pale blue, brushed cotton.
2200 x 1720 mm.

Patchwork quilt has pieced blocks in the 'Ohio star' pattern in red print and white cotton, alternating with plain white blocks. Quilt has a 9cm frill in red and grey geometric print cotton, machine stitched around the edge. Quilt appears to have some hand quilting. No padding. Backing is white cotton.
2210 x 2060mm

Patchwork quilt in the Log Cabin pattern, made from cotton fabrics in prints and plains in bright colours. There are 185 squares, all sewn on to check gingham. No padding. Backing is of black cotton.
2718 x 2540mm