Quilt No.157LB - Lynnette Brown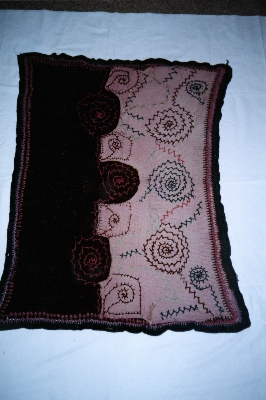 Description:
Quilt made of two overlapping woollen, children's garments, heavily embroidered with wool (herringbone stitch), backed with checked flannelette, edged with woollen crochet. Woollen crochet edging has 5 rows of treble crochet, with one row of double crochet on edge. No apparent padding.
1020 x 730mm
History:
Known as 'Nana Thompson's Quilt'. Made by Mrs Maude Thompson, in Narrandera, NSW c.1930s. Owned by Mrs Lynne Brown, daughter of Ada, Maude's fourth daughter.
Story:
"Maude Thompson was widowed at the age of 30, after only 10 years of marriage and was left with five small daughters. At that time there was not a Widow's Pension available. Mrs Thompson and her daughters lived in the house which was originally her childhood home, with the support of her father, her brother, and her stepson, Frederick.
The home, as photographed, is still occupied, and Mrs Thompson lived in that same home for all but three of her 97 years.
She was a very artistic and creative person - she always added decorative touches to her handwork, and children's clothing. Many of her handcrafts are still in the family, examples of her embroidery, crochet work and hooked woollen rugs backed with hessian, are still being used today."
[Lynnette Brown]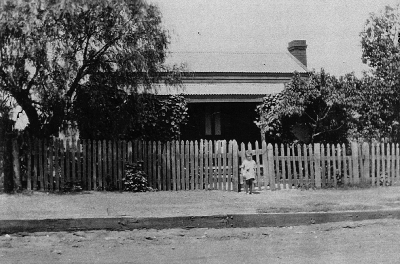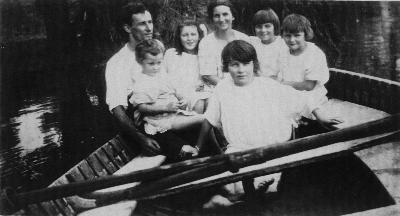 Related Quilts:

Patchwork quilt made from brightly coloured printed cotton fabrics in hexagon patches hand sewn together in rosettes, and stitched by machine onto a border of bright teal blue fabric. Fabric scraps for the patchwork were donated from friends. No padding. Backing is polished cotton curtain lining.
2312 x 1969mm

Patchwork quilt, all cotton including cotton padding filler. The design is 'Dresden Plate' or 'Friendship Circle'. Background is white with multicoloured and patterned triangular pieces forming circles. Hand stitched and heavily quilted.
2235 x 1778mm

Reused parts of hand knitted woollen jumpers patched together. Wide crocheted edge from wool unravelled from jumpers retrieved from the tip.
1905 x 1525mm

Double sided patchwork quilt. One side has small 'Tumbling Block' pattern. The other side has larger pattern of pieced stars. It is made of silks, some printed, some solid colours mainly blues, greens cream and black. There is no padding.
2100 x 1800mm

Double sided quilt machine made from clothing scraps. Shapes are mainly rectangles in corduroy and wool blend. The padding is an old grey blanket.
1524 x 1372mm

Patchwork quilt made from brightly coloured printed cotton fabrics in hexagon patches hand sewn together in rosettes, and stitched by machine onto a border of green moire taffeta. No padding. Backing is green cotton satin curtain lining. There is a matching pillow sham.
2591 x 2540mm