Quilt No.508JR - Name withheld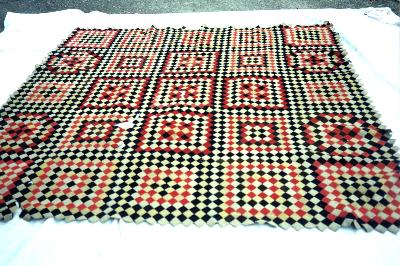 Description:
Quilt top in postage stamp pattern typical of military quilts. 5 x 5 blocks each 280 x 280mm. Colours are predominantly red, black and cream. Thought to have been made using uniform material from the Crimean war
1350 x 1350mm
History:
The quilt was left to the present owner by Miss Willis, a friend. A note was pinned to it "This rug was made by wounded soldiers from the Crimean war who, being destitute, cut up their uniforms and made them into rugs which were sold to benefit the men." Miss Willis died in 1977 in Burnie Tasmania.
Story:
The present owner's family lived close to Miss Willis for many years. She had only one brother who died long before her and no children. The owner writes: "She was a very clever woman with a huge variety of craft-work. I was an only child and when I was a little girl she made me the most beautiful doll's clothes and blankets and sheets for my doll's cradle, frilled pillowslips with lemon bows and later she made me a huge wardrobe of clothes for my teenage doll collection. They are so beautiful and detailed. She was a very clever needle-worker. She was also a keen gardener with a great knowledge of plants. She was also a very talented painter. We have 5 of her paintings framed now. They were painted in the 1920s. When I was little Miss Willis wrote me several short stories and illustrated them and made them into books for me. They featured my pet cat and her pet cat.
Miss Willis' great, great grandfather settled in Van Diemans Land in the 1820s with his family and built a fine Georgian home near Campbelltown. I have absolutely no idea from which side of her family the quilt came from, but recently I read in a Tasmanian history book that when called upon to help financially after the Crimean war, Tasmanians responded very well - so maybe it was then that the quilt arrived in the family - however if this is the case it doesn't answer why it has never been lined and padded. (It is the top only.)." [Quilt owner 4.3.1997]
Related Quilts:

Hexagonal log cabin quilt. Hexagons constructed of strips with half hexagon dark and half light. These hexagons are then joined to form diagonal light and dark stripes. Machine and hand sewn. Materials are wools, printed cottons, velvets, corduroys, rayons, flannelettes, brocades, pique and taffetas. The backing is a single piece of brocatelle (rayon brocade). There is probably a thin layer of padding.
1400 x 1200mm

Frame quilt or coverlet with centre frame surrounded by floral printed panels. The centre is cotton chintz block printed material in madder colours. It is hand quilted.
2700 x 2700mm

Quilt in traditional design called 'Seven Sisters'. Seven stars, each of six diamonds are set against a cream background, surrounded by bright pink triangles. Hand pieced and hand quilted. Padding is cotton, and backing is cream calico. 2100 x 1850 mm.

Quilt top in postage stamp pattern typical of military quilts. 5 x 5 blocks each 280 x 280mm. Colours are predominantly red, black and cream. Thought to have been made using uniform material from the Crimean war
1350 x 1350mm

Patchwork quilt of hexagon patches (3.5cm sides approx), handsewn, in cotton fabrics in sprig prints, stripes, checks, florals and plains. Colours are pre-aniline dyes, in lavender, green, red, beige and purple. Centre of quilt is pastel colours with a central patch embroidered in red: 'Elsey Rowbotham her work May 1 1869'. Quilt has a wide border of squares and triangles.Padding is thin cotton. Backing is off white calico. Quilted in parallel lines.
2693 x 2490mm

Hand stitched unfinished crazy quilt with patches placed around a centre hexagon pieced in log cabin type strips. Materials are mainly silks and satins and pieces are mounted on grey cotton material. Seams are overstitched in herringbone stitch. 1520 x 760mm