Quilt No.184DTS - Doncaster-Templestowe Historical Society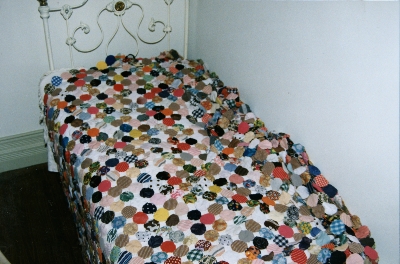 Owner:
Doncaster-Templestowe Historical Society
Description:
Quilt made of Suffolk Puffs or flattened circles, in different bright colours in cotton and silk. Large single bed size.
History:
Bought at an Op Shop. Donated to the Doncaster-Templestowe Historical Society.
Related Quilts:

Machine sewn reversible quilt. Side 1 is rectangles of men's suiting samples in mainly grey, navy and black, stripes and self patterns. Side 2 is men's suiting samples but also includes woollen rectangular pieces in plain blue and deep pink. There is a hand sewn binding of fine orange-brown wool. The padding is hessian and cotton.
1460 x 1100mm

Hand sewn patchwork quilt with a pattern of blue stars. Each star consists of hexagons in the centre with part diamonds forming the star shape. The quilt is made from scraps. It is not padded and the backing is cotton and has a hexagon star border. 2660 x 2470 mm

The quilt's construction is cotton patches about 170mm square joined in strips and then the strips joined. The border and backing are pale lemon coloured cotton lawn. The padding is an old woollen blanket. There is ric-rac braid around the border of the top.
2180 x 1420mm

Square patchwork quilt made from rectangles of woollen tailors' samples, each patch outlined with machine fancy stitch using red thread. Machine sewn. The backing is a green and white check fabric. No filling.

Patchwork cradle quilt of pieced repeat blocks. All cotton including cotton filling. Pattern is in faded greens and pinks,"4 pointed star" in circles. There are 20 blocks.
991 x 788mm

The top of this utility quilt is machine pieced rectangles of woollen materials joined in strips. It includes corduroys and velveteens and woollen tartan. The backing is an Indian cotton blanket.
1651 x 1271mm