Quilt No.193LT - Laurel Thompson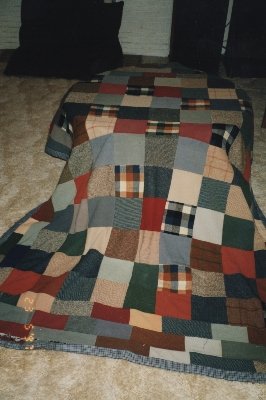 Description:
Quilt made of squares and rectangles of woollen fabric (coating material) in plain, check and woven patterns, in dark bright colours. The backing is a grey wool blanket and the quilt is bound by a light cotton fabric which has frayed. Machine stitched.
1910 x 1530mm
History:
Made by Minnie Dolores Thompson (born Suffolk) in Melbourne around 1945. Later owned by Isobel Thompson, her daughter-in-law, then passed to Isobel's daughter Laurel Thompson.
Story:
Minnie Dolores Thompson was Australian, born of Irish/English extraction, and lived in Port Melbourne.
"The quilt maker was a tailoress & her daughter worked in Flinders Lane, Melb (in the 'rag' trade). The fabrics are mostly the medium to heavy weight coating fabrics of the day.
The quilt was made for our family by my paternal grandmother.
I treasure this quilt because it was made by my beloved grandmother. I also have the Singer treadle sewing machine she made it on."
[Laurel Thompson]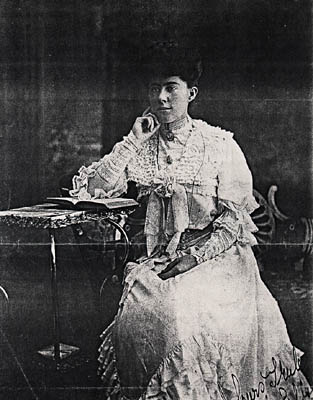 Related Quilts:

" This well worn quilt is of pieced diamonds set into squares (221 make up the quilt). Thick woollen fabric has been used for the pieces. These are with plain dyed fabrics or tartans and checks. All work on the quilt is hand sewn. The quilt was lined with a fine blue cotton." [NGA] The quilt is not padded. 1835 x 1400mm

Snow Ball' cotton quilt made in the USA. Feed bag materials and dress materials. Hand pieced and hand quilted. Calico border and backing.
2058 x 2007mm

Frame quilt in cottons with a centre motif of pieced 8 point star surrounded by borders, 2 from red/white material printed to represent Tumbling Block patchwork. The remaining borders are, one plain, one of pieced squares, one of pieced large triangles with squares in the corner. The outer border is plain. The padding is wool and the backing is cream cotton. It is elaborately quilted.
2400 x 2260mm

All over pattern of rows of hexagons with each unit made up of 4 hexagons each 45mm. Patterned and plain materials thought to date from the 1930s including cotton and linen dress materials, synthetics and synthetic crepe. It was an unfinished top and Meg Orr, the present owner, finished it by machine stitching some of the hexagon rosettes to the red twill background and stitching on a backing. There is no padding.
1740 x 1210mm.

Quilt made of Suffolk Puffs or flattened circles, in different bright colours in cotton and silk. Large single bed size.

Hand pieced frame quilt with centre frame of hexagons and radiating borders of cotton and chintz. There is a heart at each of the 4 corners on the second border. It is hand quilted. There is no padding.
1900 x 1900mm