Quilt No.287PS - Patricia Sheahan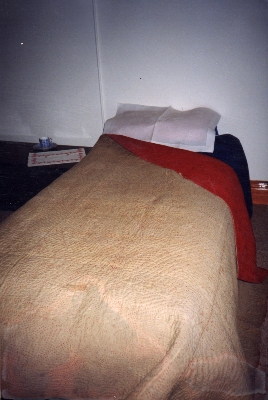 Description:
Wholecloth quilt of [cotton], red on one side and browny fawn on the other. Each side is made from three large strips of material sewn together. Qulted in red thread, with intricate patterns of squares, circles, spirals etc. Centre quilting motif is a spoked or segmented circle. Closely quilted. Padding is thin.
2000 x 1840mm
History:
Made by Julia Keene on board the ship from Ireland to Australia about 1884. She married Matthew Healy in Melbourne in 1888. The quilt then passed to Maggie O'Neill (born Healy), and it is now owned by Maggie's daughter Patricia Sheahan. Maggie O'Neill called it 'Momma's quilt', the family called it 'the old red quilt'.
Story:
"The quilt has not really been used as a quilt for at least sixty years. It is very heavy. My mother used it as a layer between the wire mattress of the double bed and the old kapok mattress so that as a child I saw it when the mattress was being turned.
Julia Keane was the fifth child, the fifth daughter in fact, of Jeremiah Keane who had married Margaret O'Brien in St Mary's Catholic Church in Clogheen, Tipperary. They actually lived in nearby Clonmel which was a British military town. But there were to be no marriages to English protestant soldiers. Mostly the girls migrated. Brigid sailed off to Boston, USA, and married, as did Mary a little later. Catherine joined them in Boston but returned after fourteen years, still single. While visiting her parents on a holiday to Ireland, Catherine 'was persuaded to marry Pat Conway'. Thus Catherine was an experienced traveller when she decided to go to Australia after the death of their third child. Pat and Catherine took an eight year old daughter, Margaret, known as Maggie, a younger son, Daniel, and Julia Keane to Brisbane. Julia, sailing with them, intended to marry W. Russell of Brisbane. In preparation for that marriage she had brought with her a hand woven blanket and some red material which to quilt on the trip. That was about 1884 when Julia was 24. However, also on the ship was a blacksmith, Matthew Healy, heading for Melbourne from Tipperary. When the ship reached Adelaide, Julia borrowed her girlfriend's hat and went ashore. Matt popped the question and W.Russell was forgotten. When the ship brought Pat Conway's family to the Brisbane wharf, poor W.Russell found Julia had changed her intentions. Naturally she brought her quilt and her blanket with her when she and Matt left the ship in Melbourne. She also had a metal cylinder for carrying her documents. Julia went into service in the home of a solicitor, Mr and Mrs Hill, in Richmond. Four years later, Matt and Julia were married in 1888. I suspect Mr Russell had paid Julia's fare and that she wanted to pay him back before marrying.
Much of this information comes from Margaret, the eldest daughter of Pat and Catherine Conway, and, except for the marriage, is unverified though I have no reason for doubts. Julia's second daughter, my mother, referred to the quilt itself as Momma's and said it was made on board ship. She told us about Julia going into service also.
The family still has some of a tea set that was the wedding gift from the Hill family, a travelling trunk with Julia's name on it, the metal cylinder, a hand woven blanket and of course, the red quilt."
[ Patricia Sheahan 1999.]
Related Quilts:

Wholecloth pram quilt with a top of pink cotton sateen, and the reverse is a more finely woven, ivory, fabric. All over quilting design as main feature, with stylised hearts, leaves and cross hatching. The padding is cotton batting. 870 x 660 mm.

Hand stitched, cotton, appliquéd, quilt in a flower pattern on a plain background. Colours are shades of green, apricot and browns. This quilt was known as a 'Bride's Quilt'. Padding is thought to be layers of white fabric raised almost like a wadding. The backing is cotton material. 2470 x 2020 mm.

Wholecloth quilt, both sides cretonne in different rose patterns. 120mm double frill matches each side. Padding is possibly hessian bags. It is hand quilted in large stitches in white/cream cotton in strips with circles, diamonds and scrolls repeated.
2070 x 2030mm

Wholecloth quilt of white cotton with hand appliqued flowers in 3 shades of red. The centre of the quilt has 6 separate flowers radiating from a circle and each corner has a separate arrangement of flowers. The white cotton quilting is in diagonal lines and a daisy pattern. There is a narrow red border widely scalloped. The backing is white cotton. There is no padding.
2236 x 1905mm

Traditional Wagga rug made from 3 wheat bags joined along the long side by sewing with bag needle and twine. Machined twill cover was put on later in the 1960s. Originally no padding but now the bags are the padding. One of a pair(identical).
1790 x 1160mm

The padding consists of layers of pieced used clothing including; part of machine knitted child's wool dress (Nancy had this when she was 3 or 4); part of father's cardigan; parts of 'neck to knee' bathers in light green and dark green wool. The padding is all hand pieced and machined around the edge. There have been 2 wholecloth cotton covers to this quilt. It is one of a pair.
1870 x 1020mm