Quilt No.308BE - Beverley Edmonds
Description:
Patchwork crazy quilt made from pieces of taffeta, brocade, grosgrain fabric and ribbon, silk velvet, and jacquard woven furnishing fabrics, mostly silk, with some cotton. The colours are a mixture of darks, brights, and light patches. Centre patch has crudely painted flowers and leaves. All seams are embroidered with feather stitch in cream cotton thread. Backing is of calico, which is stained. Handsewn.
1423 x 1372mm
History:
Made by Jean Maude Humberdross, aged 14, c.1935, at Ravensbourne (Qld). Purchased at the garage sale of Mrs Humberdross' estate in Toowoomba, 1994, by the owner, Bev Edmonds.
Story:
Jean was born 9 May 1921 at Ravensbourne, Qld, and died 13 October 1993 at Toowoomba, Qld. She suffered from polio and died from a polio related illness.
"Jean Maude Humberdross made this quilt when she was 14 years old (1935). It took three months to make. She made lots of handcrafted items - crocheted rugs & quilts but all of these things were given away. This piece was the only one she kept."
[Information provided by Beverly Edmonds 1998.]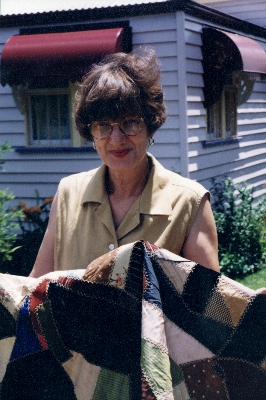 Related Quilts:

Pieced construction, repeat block format, American Blue Grass pattern. Hand stitched and quilted with a machined edge. Mauve check stars, 8 points, surrounded by 16 point stars in yellow floral. One star per block plus green squares and red strips. The background is yellow cotton and so is the backing. There is a dacron type padding.
1980 x 1740mm

Double sided square quilt mainly in cottons. Side 1 has been made in 4 squares each consisting of different sized strips and rectangles. With side 2 there appears to have been 2 stages as if the quilt was extended perhaps to match side 1. It is also squares, rectangles and strips. Sparsley machine quilted. There is no binding but side 2 has been turned over to side 1 and stitched by machine.
1525 x 1525mm

Cotton quilt made in the USA. The pattern is called 'Turkey Tracks'. It has a cotton backing and a bottle green binding. The red patches have faded to pink. The quilt is hand pieced and hand quilted. Two names are written on tape sewn on the back viz: Cora Phelps and M.Hoover.
2135 x 1727mm

Frame quilt in cottons with a centre motif of pieced 8 point star surrounded by borders, 2 from red/white material printed to represent Tumbling Block patchwork. The remaining borders are, one plain, one of pieced squares, one of pieced large triangles with squares in the corner. The outer border is plain. The padding is wool and the backing is cream cotton. It is elaborately quilted.
2400 x 2260mm

This quilt is allover crazy patchwork not done in squares. Many pieces are awkward shapes. In the centre is a 150 x 150mm square of squares each 25mm repeating some of the materials in the quilt. Most of the materials are velvets, satins and silks. There is a border of red and green patterned wool and all seams are feather stitched in a thick gold thread. The padding is thought to be flannelette and the backing is polished cotton in faded red and green.
2560 x 2160mm

The centre of the quilt is a small blue 6 pointed star surrounded by a larger blue star. Blue stars also form a border to the quilt. The background material is a multicoloured small floral pattern on white cotton. The quilt is all hand worked over templates. The padding is cotton and the backing is polyester sheeting with a border of stars.
2650 x 2475 mm