Quilt No.676MH - Margaret Hedges
Description:
Crazy patchwork quilt with small patches in velvet, silk, brocade and cottons most with hand embroidery over the seams. There are many motifs such as flowers, butterflies, birds also dates, initials and names of local properties. It is padded with a thin soft material and the replacement backing (old) is satin. There is a wide rose coloured frill on all sides.
1680 x 1380mm
History:
The quilt was made by Charlotte Augusta Barber (born Meara) probably at the property 'Mt. Taurus' or in Warrnambool in the latter part of last century. It was then owned by Charlotte Hedges, an aunt of the present owner, and now by Margaret Hedges the great grand-daughter of Charlotte Meara. It is not used now.
Story:
Charlotte Augusta Meara was born c.1815 and went to Van Dieman's Land in 1836 later crossing over to Belfast (now Port Fairy). In 1849 she and George Barber were married and lived in Port Fairy until 1855 when they moved to the neighbouring town of Warrnambool where George Barber established himself as a solicitor. They had 3 children Anthony, Louisa Ann and Ann Eliza. After practising in Warrnambool for a number of years George and Charlotte retired to a beautiful grazing property called 'Mount Taurus Estate'. George Barber died in 1897. Charlotte moved to Warrnambool and died in 1908.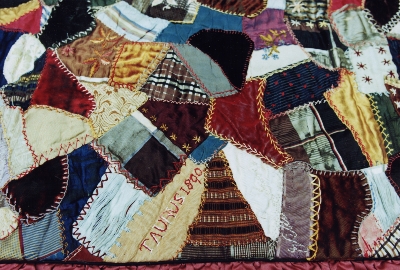 Related Quilts:

Quilt has a centre panel of white velvet roses and green leaves with embroidered spider webs, on red velvet. Two side panels are in crazy patchwork in plain and patterned silks and velvets. All patches are edged with feather, herringbone or blanket stitch. Many patches are embroidered, including 'Minnie', 'Good Luck', birds, flowers, anchor, boat, fish, shell, spider web, crown,, 2 crossed flags, tennis racquets, Australian motifs including wattle. The centre panel has a row of ruched olive green ribbon each side and the whole quilt has a border of dark blue velvet. The padding is cotton wadding and the backing is cream cotton printed with red and pink chrysanthemums and green leaves.
2113 x 1995mm

Patchwork quilt of hexagons in pattern known as 'Grandmother's flower garden'. All cotton. Rosettes are set in a white 'path' with the centre and first ring in solid colours and the second ring prints. There is a yellow border and an outer border in pink. It is hand pieced and hand quilted. The padding is cotton and the backing is white cotton with 2 border edges in light and dark blue. These borders were originally part of the top. There is an inscription "Dear daughter from Mother".
2390 x 1880mm

Quilt made from woollen dressmaking scraps, sewn to an army demob issue blanket, grey with blue stripes. Patches are feather stitched in red broder cotton thread. Quilt is edged with red cotton material zig zagged into place. Colours are pink, blue, brown, black and grey, in plain cloth, weaves and checks.
1462 x 966mm

Crazy patchwork quilt with small patches in velvet, silk, brocade and cottons most with hand embroidery over the seams. There are many motifs such as flowers, butterflies, birds also dates, initials and names of local properties. It is padded with a thin soft material and the replacement backing (old) is satin. There is a wide rose coloured frill on all sides.
1680 x 1380mm

Quuilt constructed from large pieces of used clothing pieced together to form the top. There are layers of under shirts once used by the maker's father and also by her husband Bill. The backing is an old cream blanket.
1700 x 1200mm

Reversible cot quilt, hand pieced, in the log cabin pattern; the blocks measure 150mm square. The patches have been cut from plain and patterned dress, pyjama and men's shirt fabrics. Strong diagonals were created in the overall design through using light and dark colours, often a strong red, to divide the log cabin blocks in half diagonally. The back is made from rectangles of striped men's shirt fabrics in pastel blues, pinks and browns with a large 'flowe' in each corner, each pieced from six hexagon patches around a central seventh hexagon. There is no padding.
[PHM] 1720 x 1150mm