Quilt No.676MH - Margaret Hedges
Description:
Crazy patchwork quilt with small patches in velvet, silk, brocade and cottons most with hand embroidery over the seams. There are many motifs such as flowers, butterflies, birds also dates, initials and names of local properties. It is padded with a thin soft material and the replacement backing (old) is satin. There is a wide rose coloured frill on all sides.
1680 x 1380mm
History:
The quilt was made by Charlotte Augusta Barber (born Meara) probably at the property 'Mt. Taurus' or in Warrnambool in the latter part of last century. It was then owned by Charlotte Hedges, an aunt of the present owner, and now by Margaret Hedges the great grand-daughter of Charlotte Meara. It is not used now.
Story:
Charlotte Augusta Meara was born c.1815 and went to Van Dieman's Land in 1836 later crossing over to Belfast (now Port Fairy). In 1849 she and George Barber were married and lived in Port Fairy until 1855 when they moved to the neighbouring town of Warrnambool where George Barber established himself as a solicitor. They had 3 children Anthony, Louisa Ann and Ann Eliza. After practising in Warrnambool for a number of years George and Charlotte retired to a beautiful grazing property called 'Mount Taurus Estate'. George Barber died in 1897. Charlotte moved to Warrnambool and died in 1908.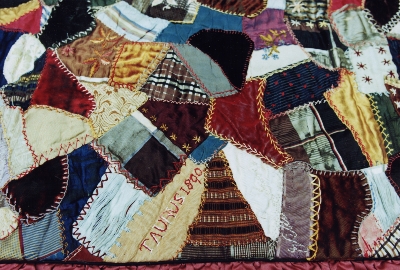 Related Quilts:

Cot quilt of cotton hexagons. There is a central diamond of hexagons and then a repeat diamond motif radiating to the edge. Each hexagon is 40mm. The backing is sheeting or similar and the padding is dacron type.
1200 x 700mm

Patchwork quilt made from brightly coloured printed cotton fabrics in hexagon patches hand sewn together in rosettes, and stitched by machine onto a border of green moire taffeta. No padding. Backing is green cotton satin curtain lining. There is a matching pillow sham.
2591 x 2540mm

" Reversible patchwork quilt of woollen suiting/upholstery fabrics in khaki, greys, blues and browns. Both sides have different designs. The front of the quilt has 13 rows of 12 vertical rectangles flanked on either side by a column of 22 horizontal rectangles. The reverse has a more interesting and complex design of small and very large rectangles, squares and triangles; with khaki contrasting with the duller greys and blues. The patchwork layers are joined at the edges with machine stitching and the quilt is machine quilted along 3 horizontal lines following joins in the patchwork; therefore not being totally straight. These lines are more noticeable on the reverse. The reverse face has been on display at the NGA." [NGA] There is a cotton blanket used as padding. 2054 x 1451mm

Double sided quilt. One side is different shapes including rectangles in various sizes in wools and men's suiting material. It is hand pieced. The pther side is mainly cottons in florals of different patterns joined in strips of varying width and machine and hand pieced. There is a 25mm binding. The padding is an old blanket.

Patchwork quilt made from hexagon patches in satin and nylon, the nylon overlaid on satin. Fabrics are plain, in a mixture of dark and light colours. No padding. Backing is of pink satin with pink satin ribbon covering the joining seams. Hand sewn with some machine stitching. Feather stitching along the edge. There is no padding.
2211 x 1752mm

" A wide range of cotton fabrics have been used to make this quilt in the traditional log cabin style. The strips of the log cabin are joined by rows being hand sewn onto a small square backing fabric, each square of strips has then been hand sewn together to form the quilt. The work is backed with a sateen printed fabric decorated with paisley design. A strip of the lining trims the edge of the front face of the quilt. The lining is attached with machine stitching. There are numerous tacking stitches that remain in the front face of the quilt. There are approx 9000 pieces in the quilt, most being only 5mm in width.
The quilt is of three layers because the strips of the log cabin are attached to a backing piece, and then the quilt is lined; however it is not padded." [NGA]