Quilt No.384LO'G - Lynette O'Grady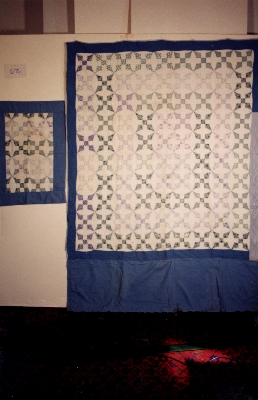 Maker
Maker:
Women of Reorganised Church of Jesus Christ of Latter Day Saints
Description:
Quilt with white background and blocks in blue and green. 'Robbing Peter to Pay Paul' pattern. Plain blue border. Hand pieced and quilted. Quilt was cut down, worn center piece discarded then quilt pieces rejoined. A cover for the pillow was made from scraps when quilt was cut down.
1930 x 1740mm
History:
The quilt was made by the ladies of the Reorganised Church of Jesus Christ of Latter Day Saints for Lily Balmour in America (probably Salt Lake City) about 1915. Lily, who was the great aunt of the present owner, gave it to her sister, the owner's grandmother, probably in the 1930s when she had returned to Australia. On her death it passed to her daughter, Lynette O'Grady's Mother (1950s) and then to Lynette in the late 1970s
Story:
"The quilt was made for my great aunt Lily Balmour (nee White). Lily was married to an American - Alma Balmour, who was an elder / Missionary in the Reorganised Church of Jesus Christ of Latter Day Saint. She travelled with him for his work and after a period in America they were returning to Australia and the ladies of the church made her the quilt as a parting gift. My great aunt eventually gave the quilt to my grandmother (her sister). Because of her constant travelling she had to limit her luggage. The quilt was on the bed in the spare room at my grandmother's home for many years. My grandmother being a very 'practical' woman, as the quilt began to wear, cut it down the center to put the inside out. On her death my mother had it for a while and then she gave it to me. Thirteen years ago we had a house fire. It survived with some scorch marks. We are not sure of the age of the quilt. My Mother is now in a nursing home and is vague about its history."
[Lynette O'Grady 1.8.98]
Related Quilts:

Reused parts of hand knitted woollen jumpers patched together. Wide crocheted edge from wool unravelled from jumpers retrieved from the tip.
1905 x 1525mm

Double sided machine sewn patchwork quilt made from clothing scraps, wool blends, corduroy, velvets. Patterns include checks and tartans and there are many plain colours. Shapes are mainly rectangles and squares.
1524 x 1372mm

Pieced repeat block, hand pieced over papers in a diamond pattern. Blue patterned border. There is no padding and the quilt has been recently backed with calico. The 2 layers are tied together. 2240 x 1830 mm.

Double sided quilt. Side 1 has an off centre frame based on a hexagon and including triangles and squares in a concentric pattern. The borders are all small rectangles with a single strip of large rectangles at one end. Side 2 has a central patch of pieced shapes appliqued to the background. The borders are squares and rectangles many in striped shirting cotton. Side 1 has minimal quilting to the interlining but it does not go through to side 2. The padding is a thin sheet.
The circle (sometimes pieced hexagons) is common to other 'Craigmoor' quilts.

1450 x 1230mm

The top is machine pieced patches of used clothing. The backing is large pieces of dress materials and either end patches similar to the top. The padding is a chaff bag or similar with patches of worn, matted children's jumpers sewn directly on to it.
1400 x 1150mm

Reversible quilt. Both sides are small squares of cotton scraps mainly left over from children's clothes. Plain and patterned pieces in a wide variety of colours. Hand stitched. Padding is pieced men's clothing, jumpers, cardigans, trousers. The present owner zig zagged over the seams, bound the edges and 'clouted' (her term) it in circles and squares.
2080 x 1570mm