Quilt No.47TS - Teona Smith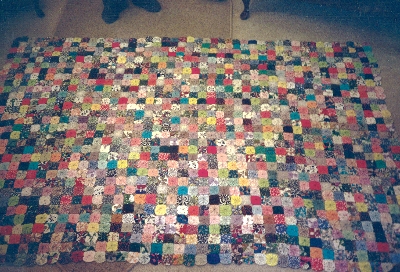 Description:
Suffolk Puff or puff-ball quilt is made from scraps of dresses and pyjamas, mainly cottons, but also taffeta lining fabric, net, lurex, flocked organdie. The quilt is in bright clear colours, the fabric mostly in small prints, ginghams, different size spots, a few large prints, Chinese brocade, nylon. Puffs are 5cm across, and set 31 puffs across by 45 down. Puffs are squared off when whipstitched together, so corner holes are smaller than usual.
2180 x 1500mm
History:
Made by Amy Joan Baker (Joan), c.1965, at 'Windowie' Farm, Gilmore via Tumut. Owned and used by Teona Smith, Batlow NSW.
Story:
"Made in approx 1965 by Amy Joan Baker who at that time lived on a farm at 'Windowie', Gilmore Via Tumut. Mostly cotton but any kind of material went into it. Just needed to be fairly soft. There is no patchwork material, it is all scraps from dresses and pjs. It took a few years to make and was only worked on occasionally. The quilt is purely decorative & would provide very little warmth."
[Teona Smith]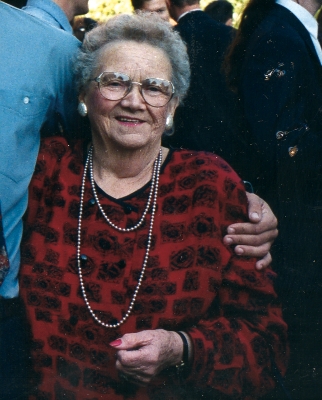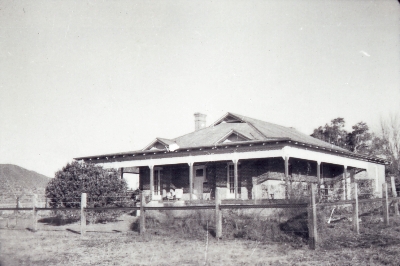 Related Quilts:

Patchwork quilt of rectangular wool and cotton tailors' samples, in browns, greys, navy, black and beige, in plains and patterned weaves. Padding is a woollen blanket, and the backing is a patterned cotton.
1956 x 1702mm

Quilt made of hexagons in cotton materials, the hexagons set in the 'Grandmother's Flower Garden' pattern with 6 patterned patches set around a plain coloured centre patch and white hexagons forming 'paths'. There is a white cotton backing with the edges turned under all the way around and top and backing are joined by a blue machine sewn satin stitch. The patches are hand sewn.
2160 x 1830mm

Double sided patchwork quilt/rug constructed from squares machined together in strips and then the strips joined. The squares average about 27cms. The materials are mainly woollens, fleck tweed, school jumpers, gren check, and chenille and all are from used clothing.
1800 x 1170mm

Quilt made from furnishing materials, mostly velour type or uncut moquette. The colours are dusty pinks and beige/camel/blue. It has been put together by making wide strips of various sized rectangles sewn together and any missing piece in a rectangle added by using another piece of material to complete the shape. There is no padding and the backing is winter cotton.
2000 x 1650mm

Quilt made from dressmaking materials in a design probably made up by the maker but resembling 'Courthouse Steps'. The outer border of each block is mitred. Originally it was reversible but during restoration the back was brought to the front, doubling the size of the quilt. The padding is old woollen materials. The backing is a new piece of floral material. It is now machine quilted.
1830 x 1220mm

Hexagon quilt, hand sewn, using a wide variety of patterned and plain cotton scraps left over from dressmaking. 6 hexagons are placed around a centre one. There is no padding. The backing is brown flannel turned over to the front with hexagons hand stitched to it.
1220 x 763mm