Quilt No.47TS - Teona Smith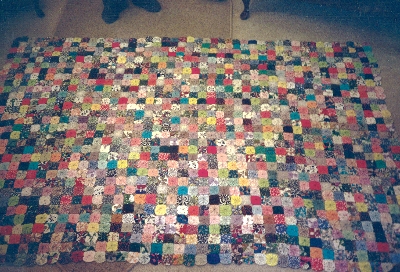 Description:
Suffolk Puff or puff-ball quilt is made from scraps of dresses and pyjamas, mainly cottons, but also taffeta lining fabric, net, lurex, flocked organdie. The quilt is in bright clear colours, the fabric mostly in small prints, ginghams, different size spots, a few large prints, Chinese brocade, nylon. Puffs are 5cm across, and set 31 puffs across by 45 down. Puffs are squared off when whipstitched together, so corner holes are smaller than usual.
2180 x 1500mm
History:
Made by Amy Joan Baker (Joan), c.1965, at 'Windowie' Farm, Gilmore via Tumut. Owned and used by Teona Smith, Batlow NSW.
Story:
"Made in approx 1965 by Amy Joan Baker who at that time lived on a farm at 'Windowie', Gilmore Via Tumut. Mostly cotton but any kind of material went into it. Just needed to be fairly soft. There is no patchwork material, it is all scraps from dresses and pjs. It took a few years to make and was only worked on occasionally. The quilt is purely decorative & would provide very little warmth."
[Teona Smith]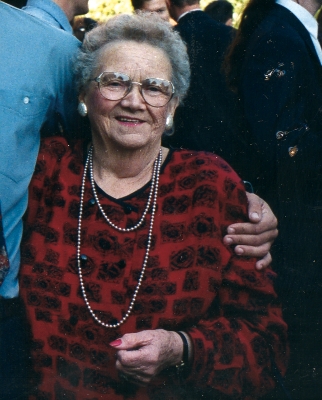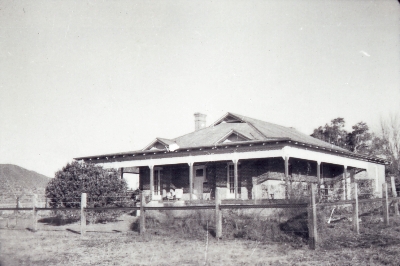 Related Quilts:

Hexagon quilt with 60mm hexagons in cottons. No particular design or pattern. Patches are plain and patterned in reds, blues, pinks, browns and greys. There is a 70mm wide lace trim. The quilt is padded and the backing is wholecloth green with a floral design in pink and cream. 1860 x 1640mm

Log Cabin quilt featuring centre square and 3 outer borders. Evidence of later repairs and additions by machine and hand sewing. There is white paint on it. The log cabin pieces are sewn on to black netting. There is no padding and the backing is a centre piece of gold damask/sateen and green and black sateen borders.
1728 x 1321mm

Patchwork quilt made from hexagons in 'Grandmother's Flower Garden' design, in blue and aqua cottons, polyester and flannelette. Quilt is backed. No padding or quilting.
2380 x 2320mm

Double sided patchwork quilt/rug. Mainly squares machined together in strips (8 across). Average square 22 to 24cms. One side has a large piece of dark grey woollen material. The materials for the squares include tweed, mohair,many woollens, tartans and cream blanketing all of which were scraps or from used clothing.
1820 x 1680mm

Quilt of small silk and rayon rosettes of hexagons in prints and plain materials including velvet, voided velvet, chine, printed silk, brocades, taffeta, satin, crepes. Many of the materials are from Japanese kimono and wrapping silks. It is pieced over papers, one paper has a typed date '1930'. The backing is black silk satin and is turned to the front to form a border.
1695 x 1390mm

Machine pieced cotton quilt, in random design of geometric pieces. Materials used are cotton sheeting, dress fabrics, broderie anglaise, and seersucker. There is no padding, and backing is white curtain lining.
1540 x 1150 mm.