Quilt No.47TS - Teona Smith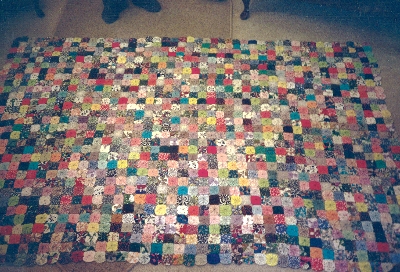 Description:
Suffolk Puff or puff-ball quilt is made from scraps of dresses and pyjamas, mainly cottons, but also taffeta lining fabric, net, lurex, flocked organdie. The quilt is in bright clear colours, the fabric mostly in small prints, ginghams, different size spots, a few large prints, Chinese brocade, nylon. Puffs are 5cm across, and set 31 puffs across by 45 down. Puffs are squared off when whipstitched together, so corner holes are smaller than usual.
2180 x 1500mm
History:
Made by Amy Joan Baker (Joan), c.1965, at 'Windowie' Farm, Gilmore via Tumut. Owned and used by Teona Smith, Batlow NSW.
Story:
"Made in approx 1965 by Amy Joan Baker who at that time lived on a farm at 'Windowie', Gilmore Via Tumut. Mostly cotton but any kind of material went into it. Just needed to be fairly soft. There is no patchwork material, it is all scraps from dresses and pjs. It took a few years to make and was only worked on occasionally. The quilt is purely decorative & would provide very little warmth."
[Teona Smith]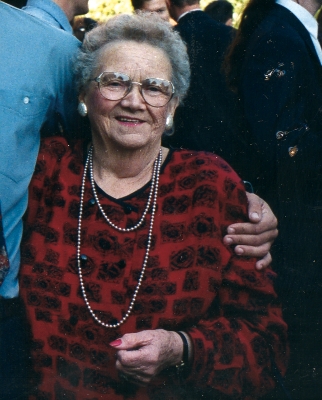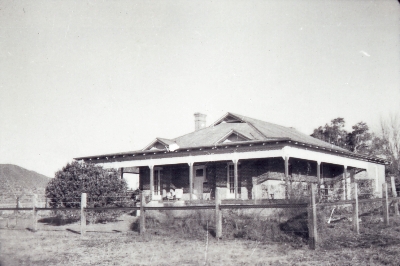 Related Quilts:

Hexagon quilt in pattern known as 'Grandmother's flower garden'. Hexagons of prints and plains with yellow centre to each flower, and plain pink outlines. It is hand pieced and hand quilted. Padding is cotton, backing is cream cotton. 2200 x 2000 mm.

The quilt consists of 2 layers of random pieces of woollen coating and suiting materials machined together, very dark colours on one side and a mixture of dark and lighter on the other. The 2 layers are quilted together with a row of machining and has a folded and machine stitched edge. There is no padding.
1270 x 950mm

Cot quilt of mixed textiles and techniques. Made in sections and stitched together possibly with some padding. It features embroidered and appliqued animals (cats, donkey, elephant, squirrel, birds, kangaroo, emu) and nursery rhyme characters. Materials are cotton, silk, wool, imitation fur. There is a black velvet patch with a cross stitch parrot and embroidered date and initials 'May 1925 AE'. The backing is woven self patterned curtain material. There is a ruffle around the edge in the same material.
1400 x 930mm

Cotton quilt with central frame and radiating borders mainly in squares in pinks and blues, printed materials and plain. The padding is cotton wool and the backing is off white cotton.
2040 x 1800mm

Log cabin patchwork pieces (2) with each block approximately 120 x 120mm. They are diagonally divided into light and dark side. Materials are mainly silks including silk velvets. Each block is stitched on to a backing square, pieces of old blanket, woollens, cottons, many very worn. There is no other backing.
Quilt is hand pieced.
1000 x 1000mm

The suffolk puffs are mainly cotton in a wide variety of colours and plain and patterned materials. The puffs are small squares rather than the more usual circles. The backing is teal satin hand stitched to the top. There is a teal bow at one end. There is no padding.
1570 x 1100mm