Quilt No.3GW - Gladys V. Williams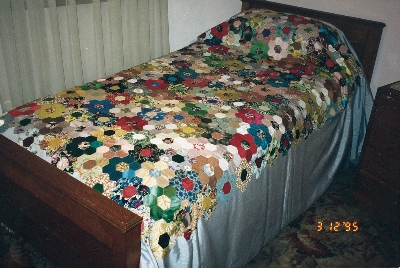 Description:
Grandmother's Flower Garden, also known as French Bouquet. The quilt comprises 181 flowers. No padding is used. Each flower has seven hexagonal patches, cut from a metal template pattern. Floral and plain silk materials are used and mounted on pale blue moire taffeta.
3050 x 2031mm
History:
Made by Gladys V. Williams who started the patchwork in 1937. The quilt completed in 1957. It won second prize in the Royal Sydney Show 1958, first prize Albury Spring Show 1958. The quilt is in regular use in summer months.
Story:
"This quilt in the beginning was to be a cushion. I was visiting my parents in Launceston, Tasmania, Christmas 1936, when I acquired the first offcuts from my sister, who was a dressmaker, & was making Evening Gowns at the time.
We had two small sons, who were both asthmatics, and it was necessary to spend a lot of time with them. Our mother was an expert needlewoman and had passed on the interest to her daughters. From her Craft Books I became interested in Patchwork.
However, progress was slow and also there was the chase for the off cuts from different sources. When there was enough flowers for a cushion, I had the 'Bug' and kept on.
In 1939 the Second World War began and my husband enlisted in 1941. Before my marriage I was with the Commonwealth Public Service and was called back to work for War Years. So everything was packed away and stored.
The two boys were at school and as you may guess there was not very much spare time.
My husband was discharged September 1945 with War Disabilities, after service in the Middle East & Northern Aust. He took over the management of the family business, with which I was also involved. In 1948 a third son was born and it wasn't until the 1950's that I started up the Patchwork again.
The quilt was finally finished at the end of 1957. I have to thank my sister and many friends for the scraps of beautiful fabrics they collected for me.
I enjoy all kinds of needlework. At present I'm working on Textured Tapestry, using many of the 100 or so different stitches that are available. However, my real love is Hand Knitting and I always have a piece of knitting on the needles."
[Gladys Williams, NSW, 30.1.96]
Related Quilts:

Cotton frame quilt with a diamond in the centre of the frame and a border of straight pieces. The outer border is diamonds. The quilt is hand sewn and hand quilted.
1910 x 1830mm

Patchwork cot or pram quilt made of diamond patches in the Tumbling Block pattern. Patches are made from cotton, corduroy and velvet, with red, black, teal blue, green, brown and cream predominating. No padding. Backing is of green wool and the quilt is bound with dark red crushed velvet.
780 x 560mm

Cotton quilt made in the USA. Pattern is the 'Evening Star' and each star has a frame. It is hand pieced and hand quilted and uses shirting material. It has been modified along two sides where the block extension is visible, having been turned to make a hem. The backing is calico and the padding is cotton.
1829 x 1575mm

Patchwork quilt made for a child. All cotton with cotton padding. White blocks have embroidery depicting different nursery rhymes eg Mary, Mary, Quite Contrary ; Old Mother Goose. These blocks are separated by rectangular strips of teal cotton. The quilt is hand stitched and heavily quilted.
1677 x 1271mm

Patchwork quilt or table covering dark and light silks in bright colours, pieced from diamond shapes into stars with black patches between the stars. Plain and patterned silks are used for the stars. Border is made from a single row of Tumbling Blocks in plain silks with an edging on each side of truncated black diamonds on blue on the inside, orange on the outer edge. There is a star pieced of diamonds in each corner. Hand sewn.
1830 x 1800mm

Hand pieced and quilted quilt in silks, wool and cotton dress materials. The centre is a hexagon star in pink and yellow with black points. Most of the body of the quilt is pieced in Tumbling Blocks with an outer border of triangles. The backing is pieced from large rectangles of blue satin, rust-brown moire taffeta and brown-grey silk in a 'rectangle within a rectangle' pattern. The quilting is all over and finely done in yellow thread in a variety of patterns including snails, petalled flowers and hearts.