Quilt No.409MC - Margery Creek
Description:
Medallion style all cotton quilt made in the USA. Hand pieced with centre panel of 'cheater' material pre printed in a patchwork design. Bordered with 'Nine Patch' and sashing. The backing is printed cotton and the padding is cotton. The quilt has yellow tufting or ties in wool.
1855 x 1525mm
History:
The maker is unknown. Margery Arnold Creek inherited the quilt from her Mother Margery Eleanor Arnold (1912-1996) who purchased it from a quilt dealer in New Jersey in 1991.
The quilt is not used.
Story:
Nothing is known of the early history of the quilt. Margery E. Arnold made quilts and collected them from the 1970s. She chose quilts to purchase usually by their fine workmanship and quilting designs.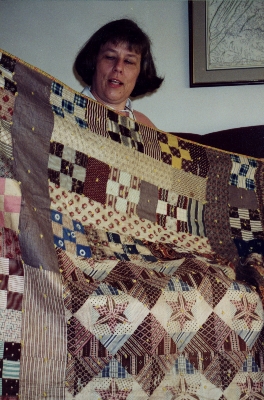 Related Quilts:

Square quilt top. Floral centre piece with borders of squares set in a diamond pattern. Squares are in plain colours and patterns. There is no padding or backing.
920 x 920mm

Hand sewn hexagons over paper templates in a pattern known as 'Grandmother's Flower Garden'. Materials are printed dress cottons, patterned and plain, mainly in pinks, blues and browns. The border and backing is grey linen and is machine stitched on. There is no padding. 2060 x 1579 mm.

Quilt made of 26 x 13 rectangles of woollen men's suiting samples. Each rectangle is about 70 x 130 mm. Wide variety of patterns, mainly stripes, and colous. The padding is part of a worn cream blanket and joined pieces of woollen clothing. The backing is a well worn piece of brushed cotton. Machine made.
11900 x 1870 mm

Double sided quilt made from all wool worsted suiting samples. Machine construction. There is no padding.
1840 x 1330mm

Quilt made of hexagons in cotton materials, the hexagons set in the 'Grandmother's Flower Garden' pattern with 6 patterned patches set around a plain coloured centre patch and white hexagons forming 'paths'. There is a white cotton backing with the edges turned under all the way around and top and backing are joined by a blue machine sewn satin stitch. The patches are hand sewn.
2160 x 1830mm

Hand pieced log cabin quilt in silks, satins and velvets. There is a silk backing machined on, possiby a later addition. The quilt has over 5000 pieced.
1820 x 1680mm