Quilt No.427MC - Mal Crawford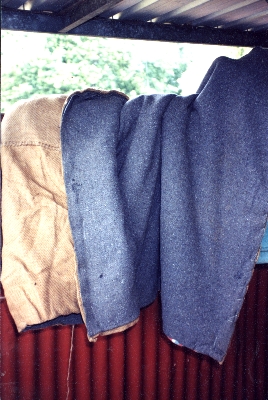 Description:
The top is an old army blanket, the backing is jute bags and the padding is old woollen material and parts of the maker's mother's fake leopard skin coat. It is hand sewn using a darning needle and fishing line.
1880 x 1132mm
History:
This quilt/rug was made by Mal Crawford pre 1970 and is still owned by him. It is still used on fishing trips.
Story:
Mal crawford is a keen fisherman and the Wagga was and is still used on fishing trips. "The kids couldn't move when they slept under it."
[Mal Crawford 13.1.98]
Related Quilts:

Wholecloth pram quilt with a top of pink cotton sateen, and the reverse is a more finely woven, ivory, fabric. All over quilting design as main feature, with stylised hearts, leaves and cross hatching. The padding is cotton batting. 870 x 660 mm.

Hand stitched, cotton, appliquéd, quilt in a flower pattern on a plain background. Colours are shades of green, apricot and browns. This quilt was known as a 'Bride's Quilt'. Padding is thought to be layers of white fabric raised almost like a wadding. The backing is cotton material. 2470 x 2020 mm.

Whole cloth traditional Durham quilt in sateen, pink one side and ivory the other. Elaborately hand quilted. It is padded but the type of padding is unknown. 2030 x 2030mm.

Utilitarian quilt. The padding is pieced used clothing and possibly reused blanket. The top and backing are machine pieced cotton scraps in a wide variety of pattern and colours.
1626 x 1601mm

Wholecloth quilt with top of red sateen. Hnad quilted with a large central rosette in a 'gothic' border then square on point border and outer border with rosettes in rectangular corner panel. The backing is cotton sateen with printed floral bouquets. The thick padding is cotton. This type of quilt is called 'cuttunina' in the Sicilian dialect which means 'has cotton inside'.
2360 x 2310mm

Wholecloth quilt with one side blue satin with a red satin border and the reverse side wholecloth floral cotton. The quilting is parallel lines and squares. It is all hand stitched. The padding is raw cotton.
1740 x 1240mm