Quilt No.435NTQ - National Trust of Australia (QLD)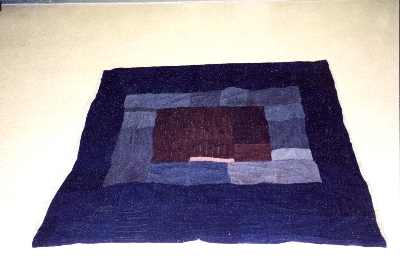 Owner:
National Trust of Australia (QLD)
Description:
Quilt made of tailors' swatches, machine constructed around a central frame that is mainly mid brown pieces. This is surrounded by rectangles of mainly charcoal greys and the outer border is navy blues. The backing is a heavy cotton with random green and cream and grey stripes.
1651 x 1220mm
History:
The quilt was left on the doorstep of the Castling Street Heritage Centre (National Trust of Queensland) in 1993 and was accepted into the collection. Nothing else is known.
Story:
"The quilt was saturated by the 1998 January flood. The person who found the quilt cried a little. It was folded and soaked. It was put into a garbage bag and frozen until the more pressing conservation work was dealt with. It was then thawed slowly in a refrigerator, then checked, rinsed in rain water and observed to see that there was no damage or silt. It was then washed."
[Gai Copeman Hon. Curator, 15.3.98]
Related Quilts:

Utilitarian quilt made from large pieces of wool, flannel and cotton. Machine construction and the padding is wool.
1570 x 152Omm

Machine made cotton quilt with 100mm cotton squares placed diagonally with peaks running around the edge. The colours are mainly autiumn tones and the patterns include checks, tartans, florals, geometric and plains. Materials were scraps left over from sewing projects such as children's clothes. There is a matching valance.

Unlined quilt. Central square of floral chintz with rectangular and chevron border making a larger frame that is set within another square-on-point frame edged with 2 toned red leaf pattererned chintz. This quilt is mainly pieced (squares, triangles, lozenges) but the hexagon rosettes are appliqued. Dress and furnishing cottons dating from the early 1800s. Raw edged, unfinished. All hand stitched.
2400 x 2400mm

This utility quilt is mainly constructed from long strips of cotton seed sack material. It is machine pieced and quilted by hand in a diagonal pattern. There is a red border. The backing is cotton flannelette and the padding is cotton.
1601 x 1525mm

This is one of two single bed quilts in a pattern the owner calls 'Martha Washington's Flower Garden'. Flowers are in six hexagons in a variety of prints with a plain coloured centre. The background is cream, and the backing is calico. 2500 x 1800 mm.

"The coverlet is of cream cheesecloth, highly decorated with applied figures and pieced fabric bands. The appliqué bands follow the edge of the coverlet for some time and then become circles radiating from the centre. The bands form two framed circular areas that carry appliquéd images. A smaller area lower centre of the cloth depicts birds and insects. In the centre of the work is a bordered oval with two aboriginal figures, an angel, kangaroo, emu and kookaburra, with the words 'Advance Australia Fair' embroidered in black thread. The stitching and construction of the coverlet is quite crude." [NGA] The quilt is not padded or lined. 1640 x 1550mm