Quilt No.458RCH - Red Cliffs Historical Society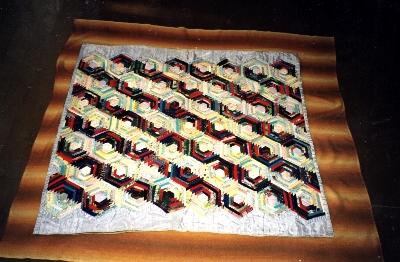 Owner:
Red Cliffs Historical Society
Description:
Hexagonal log cabin quilt. Hexagons constructed of strips with half hexagon dark and half light. These hexagons are then joined to form diagonal light and dark stripes. Machine and hand sewn. Materials are wools, printed cottons, velvets, corduroys, rayons, flannelettes, brocades, pique and taffetas. The backing is a single piece of brocatelle (rayon brocade). There is probably a thin layer of padding.
1400 x 1200mm
History:
The quilt was made by Florence Beaton of Sunshine Farm in the 1950s or 1960s. It is now owned by the Red Cliffs Historical Society at Red Cliffs, Victoria. The society also has a fine collection of Florence and Clara's needlework.
Story:
Florence (Flo) Beaton (born McNabb) 1920-1996 was the daughter of Clara and Frank McNabb who selected block 46 at Carwarp in the harsh mallee country of north western Victoria in 1913. They called it "Sunshine Farm". Florence was one of 4 childrten (3 boys). She recalled* that her Mother Clara once won a nail driving competition, was an expert with a shotgun, worked on the farm driving a team of horses, had a wonderful garden and was a fine needlewoman as was her mother Ellen before her. Flo carried on the needlework tradition of her mother and grandmother and was accomplished in many types of needlework including making quilts. Flo did not have any children.
[*Ref: "A Woman's Work" By Florence Beaton. The story of a Mallee farmer's wife from 1913. Published by The Sunnyland Press, Red Cliffs 1985.]
Related Quilts:

" This well worn quilt is of pieced diamonds set into squares (221 make up the quilt). Thick woollen fabric has been used for the pieces. These are with plain dyed fabrics or tartans and checks. All work on the quilt is hand sewn. The quilt was lined with a fine blue cotton." [NGA] The quilt is not padded. 1835 x 1400mm

Double sided square quilt mainly in cottons. Side 1 has been made in 4 squares each consisting of different sized strips and rectangles. With side 2 there appears to have been 2 stages as if the quilt was extended perhaps to match side 1. It is also squares, rectangles and strips. Sparsley machine quilted. There is no binding but side 2 has been turned over to side 1 and stitched by machine.
1525 x 1525mm

150 x 210mm pieces of bound suiting samples overlapped and machined together then herringboned with gold/yellow thread. Each piece has an embroidered motif, using single thread, mainly non Australian birds and animals. '1903' is embroidered on a centre piece. It is hand quilted. The backing is a black floral print. There is no padding.
1800 x 1940mm

Patchwork quilt in Grandmother's Flower Garden pattern, consisting of 7 patch rosettes with white 'paths'. Cotton dress and shirting materials have been used in blues, pinks, brown, turkey red and Prussian blue. The quilt is hand sewn and each hexagon is 25mm wide. The backing is cream twill cotton in three panels. There is a hand sewn binding in red/pink cotton. There is overall quilting in chevron or zigzag pattern.
2415 x 2110mm

All over pattern of rows of hexagons with each unit made up of 4 hexagons each 45mm. Patterned and plain materials thought to date from the 1930s including cotton and linen dress materials, synthetics and synthetic crepe. It was an unfinished top and Meg Orr, the present owner, finished it by machine stitching some of the hexagon rosettes to the red twill background and stitching on a backing. There is no padding.
1740 x 1210mm.

" This is an unfinished section/piece of crazy quilting. Ribbons divide the piece horizontally into three sections; between these are bands of pastel fabrics and embroidery in the crazy quilt tradition. The fabrics and threads employed are very luxurious: laces, satin ribbons and silk velvets. The embroidery is very fine, employing a wide variety of stitches and threads. This patchwork piece is padded with cotton wadding and backed with tarlatan." [NGA] 1170 x 1020mm