Quilt No.458RCH - Red Cliffs Historical Society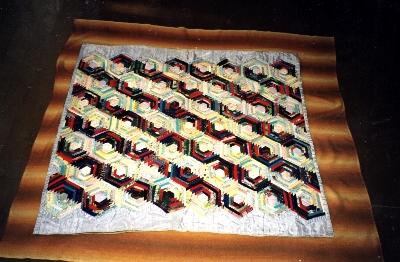 Owner:
Red Cliffs Historical Society
Description:
Hexagonal log cabin quilt. Hexagons constructed of strips with half hexagon dark and half light. These hexagons are then joined to form diagonal light and dark stripes. Machine and hand sewn. Materials are wools, printed cottons, velvets, corduroys, rayons, flannelettes, brocades, pique and taffetas. The backing is a single piece of brocatelle (rayon brocade). There is probably a thin layer of padding.
1400 x 1200mm
History:
The quilt was made by Florence Beaton of Sunshine Farm in the 1950s or 1960s. It is now owned by the Red Cliffs Historical Society at Red Cliffs, Victoria. The society also has a fine collection of Florence and Clara's needlework.
Story:
Florence (Flo) Beaton (born McNabb) 1920-1996 was the daughter of Clara and Frank McNabb who selected block 46 at Carwarp in the harsh mallee country of north western Victoria in 1913. They called it "Sunshine Farm". Florence was one of 4 childrten (3 boys). She recalled* that her Mother Clara once won a nail driving competition, was an expert with a shotgun, worked on the farm driving a team of horses, had a wonderful garden and was a fine needlewoman as was her mother Ellen before her. Flo carried on the needlework tradition of her mother and grandmother and was accomplished in many types of needlework including making quilts. Flo did not have any children.
[*Ref: "A Woman's Work" By Florence Beaton. The story of a Mallee farmer's wife from 1913. Published by The Sunnyland Press, Red Cliffs 1985.]
Related Quilts:

Pieces of heavy woollen material have been strip pieced and then joined. The joined pieces have then been folded over and restitched along the sides to make a double sided quilt. It is very heavy.
1830 x 1400mm

Patchwork quilt made of approx. 730 Suffolk Puffs, using mainly cotton materials in florals and plains. Each puff is 45mm diameter. The quilt centre has a square of 16 pink puffs outlined with a single row of blue puffs. Each corner of the quilt has a square of 9 puffs in a single colour. No padding. Quilt is edged and backed with a red and white tartan cotton.

Double sided quilt. Side 1 has a central patch of small rectangles and borders of half square triangles. Seamed construction. Side 2 is crazy patch in wools and cottons on to a backing material. There is one round segmented circle in the centre. Machine pieced and quilted.
2050 x 1610mm

Cotton quilt with rosettes of hexagons. There is a centre hexagon with a surround of 6 hexagons in a contrasting pattern and then an outer row of 12 hexagons in a different pattern. Between each rosette is a single row of hexagons in a print common to the whole quilt. The materials are typical of the 60s period. There is a deep aqua border. It is machine quilted. The backing is cotton.
2515 x 1829mm

Cotton quilt entirely of hesagons. Some are formed into rostttes or flowers and have a print border of 12 hexagons, an inner circle of 6 hexagons in a plain colour and a yellow hexagon centre. The padding is cotton wool and the backing plain off white cotton.
2210 x 1430mm

Silk quilt in diamonds with hexagon border. "Toward the edge of the quilt, the design of diamonds made into blocks offers an optical illusion, where the diamonds can be seen to form stars. The border is made up of these stars and half-diamonds, and the entire quilt is trimmed with lace and triangular flaps made of tiny hexagons." [extract unidentified magazine article supplied by quilt owner.]
The backing is maroon cotton. 1600 x 1600 mm.