Quilt No.463JB - June Brown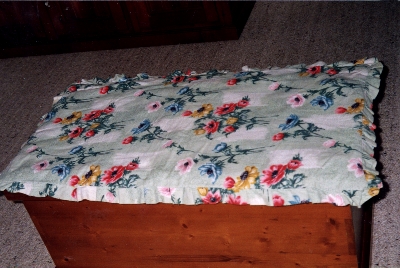 Description:
Rectangular cot quilt of green floral cretonne with pleated frill. Machine made. The backing is the same material. It is tied not quilted. The padding is old woollen jumpers.
1050 x 610mm
History:
The quilt was made by Annie Hulland in 1957 for her first grandon Andrew. It was then used by her daughter, Heather McClounan, for the other 3 children. They lived on a farm at Hopetoun, Victoria. Heather McClounan gave the quilt to June Brown in 1998 to care for and use as an historical record. It is not used now and is stored in a cotton bag in a cupboard in June Brown's home.
Story:
The material was originally purchased to make curtains but was used to make this functional cot quilt instead. Heather McClounan said of her mother: "My mother was a very thrifty person, as there were five children in our family, born between 1929 and 1939. I fancy it (the quilt) was necessity. She made this quilt for my son Andrew and it was subsequently used for my other three children." [Heather McClunan]
Related Quilts:

Wholecloth pram quilt with a top of pink cotton sateen, and the reverse is a more finely woven, ivory, fabric. All over quilting design as main feature, with stylised hearts, leaves and cross hatching. The padding is cotton batting. 870 x 660 mm.

Hand stitched, cotton, appliquéd, quilt in a flower pattern on a plain background. Colours are shades of green, apricot and browns. This quilt was known as a 'Bride's Quilt'. Padding is thought to be layers of white fabric raised almost like a wadding. The backing is cotton material. 2470 x 2020 mm.

Garland with berries appliqued on wholecloth quilt of off white cotton. The backing is whole cloth in soft green. The garland (ribbon appearance) is in floral patterned green. The red berries are padded. It is machine quilted. Dacron type padding.
1820 x 1500mm

Wholecloth quilt. Top is gold sateen and the backing is gold cotton. Hand quilted in an overall large shell pattern within a border of three parallel lines spaced at 1000, 800, 700mms respectively. The padding is cotton wadding. 2000 x 1800mm

Old jute wool pack opened out and joined together selvedge to selvedge. Ends bound with recycled curtain material.
1550 x 1321mm

One side of this wholcloth quilt is a single piece of cretonne or similar with a pattern of autumn leaves. The other side is patched pieces of curtaining. The padding is old clothing, mainly knits, tacked to random pieces of curtain material. The quilt is tacked together to hold all the padding in and machine stitched to the backing.
1850 x 1100mm