Quilt No.463JB - June Brown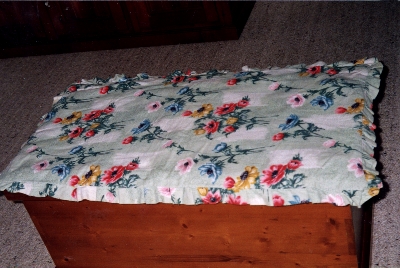 Description:
Rectangular cot quilt of green floral cretonne with pleated frill. Machine made. The backing is the same material. It is tied not quilted. The padding is old woollen jumpers.
1050 x 610mm
History:
The quilt was made by Annie Hulland in 1957 for her first grandon Andrew. It was then used by her daughter, Heather McClounan, for the other 3 children. They lived on a farm at Hopetoun, Victoria. Heather McClounan gave the quilt to June Brown in 1998 to care for and use as an historical record. It is not used now and is stored in a cotton bag in a cupboard in June Brown's home.
Story:
The material was originally purchased to make curtains but was used to make this functional cot quilt instead. Heather McClounan said of her mother: "My mother was a very thrifty person, as there were five children in our family, born between 1929 and 1939. I fancy it (the quilt) was necessity. She made this quilt for my son Andrew and it was subsequently used for my other three children." [Heather McClunan]
Related Quilts:

Wholecloth pram quilt with a top of pink cotton sateen, and the reverse is a more finely woven, ivory, fabric. All over quilting design as main feature, with stylised hearts, leaves and cross hatching. The padding is cotton batting. 870 x 660 mm.

Hand stitched, cotton, appliquéd, quilt in a flower pattern on a plain background. Colours are shades of green, apricot and browns. This quilt was known as a 'Bride's Quilt'. Padding is thought to be layers of white fabric raised almost like a wadding. The backing is cotton material. 2470 x 2020 mm.

The padding consists of layers of pieced used clothing including; part of machine knitted child's wool dress (Nancy had this when she was 3 or 4); part of father's cardigan; parts of 'neck to knee' bathers in light green and dark green wool. The padding is all hand pieced and machined around the edge. There have been 2 wholecloth cotton covers to this quilt. It is one of a pair.
1870 x 1020mm

Unfinished small quilt top of pale blue linen with squares of embroidery and silk patches appliqued and embroidered. The centre has embroidered coat of arms of the Baillie (or Bayley)family. Embroidered motifs are flowers, domestic items, anchor, butterfly, fan, basket, gardening implements. Total of 99 patches in silk, linen and cotton.
873 x 845mm

This utility quilt/eiderdown has a wholecloth top of faded floral cotton, a frill of the same material and a centre diamond of plain green cotton. The backing is plain green and the padding is kapok.
1753 x 1474mm

Taylor's sample quilt made from men's suit swatches, mainly greys and blues. Edging is 6cms wide, of blue flannelette. Padding is an old grey blanket, and the backing is of printed pattern corduroy. 1680 x 920 mm.