Quilt No.474GW - Glenda Wilkinson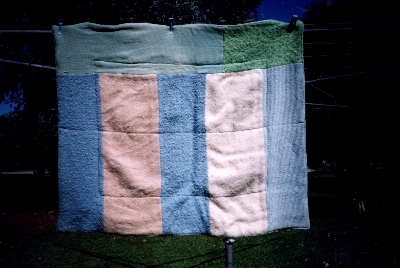 Description:
Small quilt made from pieces of heavy weight wooollen coat material cut into strips and machined together. It is reversible. Each side is made from different materials but in similar colours of aqua, blue, green and beige. The 2 layers are quilted together with a few machined lines of straight stitching. It has a folded and machine stitched edge. There is no padding.
950 x 790mm
History:
The quilt was made by Miss Olive Budden who lived at the "Strathallen Home for the Aged" in Macleod, Melbourne in 1965. Olive Budden gave it to Glenda Wilkinson, the present owner.
Story:
"Miss Olive Budden, maker of this quilt, had access to offcuts from a coat factory. She made scores of quilts from these and took great pleasure in giving them to her friends and acquaintances. This was given to me for my children to use as a "car rug" in the days before cars were heated."[Glenda Wilkinson 21.10.98]
Related Quilts:

Reversible cot quilt, hand pieced, in the log cabin pattern; the blocks measure 150mm square. The patches have been cut from plain and patterned dress, pyjama and men's shirt fabrics. Strong diagonals were created in the overall design through using light and dark colours, often a strong red, to divide the log cabin blocks in half diagonally. The back is made from rectangles of striped men's shirt fabrics in pastel blues, pinks and browns with a large 'flowe' in each corner, each pieced from six hexagon patches around a central seventh hexagon. There is no padding.
[PHM] 1720 x 1150mm

Snow Ball' cotton quilt made in the USA. Feed bag materials and dress materials. Hand pieced and hand quilted. Calico border and backing.
2058 x 2007mm

Patchwork quilt made for a child. All cotton with cotton padding. White blocks have embroidery depicting different nursery rhymes eg Mary, Mary, Quite Contrary ; Old Mother Goose. These blocks are separated by rectangular strips of teal cotton. The quilt is hand stitched and heavily quilted.
1677 x 1271mm

Allover pattern in woollen dress materials in blue, grey, navy, black and pink. Hand stitched. The owner suggests it was made in the 1950s or earlier. It is not used.
910 x 1250mm

Frame quilt in cottons with a centre motif of pieced 8 point star surrounded by borders, 2 from red/white material printed to represent Tumbling Block patchwork. The remaining borders are, one plain, one of pieced squares, one of pieced large triangles with squares in the corner. The outer border is plain. The padding is wool and the backing is cream cotton. It is elaborately quilted.
2400 x 2260mm

Patchwork quilt of hexagons, handsewn, in print and plain cottons and rayon. Central star group has diamond shaped groups of patches, with smaller flower shapes, an inner border of a star shape in yellow hexagons, and an outer border of hexagons in vertical bands. Colours are mainly blues, reds, greens and yellow, the 'paths' and border are a pink print. The backing is herringbone stitched to the border or sashing, which has mitred corners.
2400 x 2340mm