Quilt No.593PWH - The Pioneer Women's Hut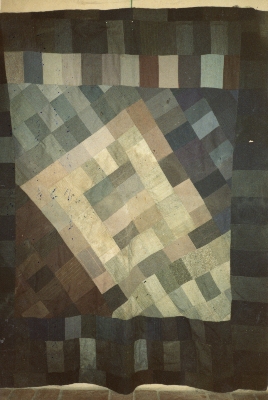 Description:
A buggy rug of machine pieced patchwork of men's suiting samples. There is a large diamond of patches in the centre, bordered by rectangles. There is no padding. The backing is wholecloth tartan wool.
1910 x 1580mm
History:
The makers were 2 aunts of Sir Murray Tyrell at Carrajung, South Gippsland, Vic. They used the buggy rug when they went to collect Murray Tyrell from the train when he was coming home from boarding school for holidays. George Martin donated it to The Pioneer Women's Hut. It is not used and is occasionally displayed at the museum.
Related Quilts:

Old jute wool pack opened out and joined together selvedge to selvedge. Ends bound with recycled curtain material.
1550 x 1321mm

Double sided patchwork quilt/rug. Mainly squares machined together in strips (8 across). Average square 22 to 24cms. One side has a large piece of dark grey woollen material. The materials for the squares include tweed, mohair,many woollens, tartans and cream blanketing all of which were scraps or from used clothing.
1820 x 1680mm

Quilt made of tailors' swatches, machine constructed around a central frame that is mainly mid brown pieces. This is surrounded by rectangles of mainly charcoal greys and the outer border is navy blues. The backing is a heavy cotton with random green and cream and grey stripes.
1651 x 1220mm

The quilt is called 'Loved'. The pattern is log cabin and it is made from dress materials and pyjama flannelette. The original filling was a heavy woollen blanket (now flannelette) and the backing is green headcloth - all government issue. With its restoration, the backing was supplemented with a green floral, and the quilt is now tied. The quilt is machine pieced, some restoration work is done by hand.
2260 x 1920mm

Crazy patchwork quilt pieced from velvets, satins, braids, taffetas, cottons with some decorative stitching. A ruffle and the backing are in ruby red satin. There is a dacron type padding.
1620 x 1200mm

Rectangular quilt of print and plain
cottons pieced in squares and rectangles within 2 frames, the inner border or frame of blue/green check material, then 2 rows of squares and rectangles, the outer frame of a grey and red geometric pattern and 2 rows of squares or rectangles. Backing of plain fabric. Machine stitched on a treadle machine.