Quilt No.623PWH - The Pioneer Women's Hut
Description:
Double sided quilt, machine pieced from large rectangles of used clothing in various materials including wools and suitings. The sides are turned in and machined to make a firm edge. It is machine quilted. The padding is 3 old sheets and a blanket.
1370 x 1040mm
History:
This quilt was made by Mary Annetts (1905-1997) in Adelong NSW probably in the 1940s. It was used in her house in Havelock Street, Adelong where she lived for 60 years. Her husband (deceased) was a rabbiter and her son is now postmaster. It was made for general use on the beds and was purchased by The Pioneer Women's Hut at a clearing sale. It is displayed occasionally at the museum.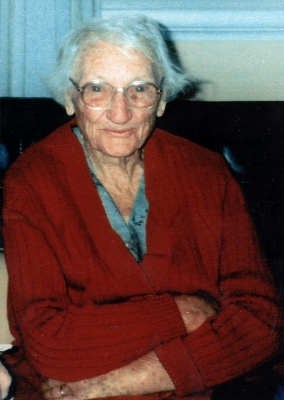 Related Quilts:

Grandmother's Flower Garden quilt. Hexagons are from cotton and polyester material mostly from 'Reverse Garbage' Melbourne. Hand pieced by Rita Fiddian, the owner. Hand quilted. The padding is wool and the backing cotton.
3049 x 2109mm

Double sided silk quilt. One side is paisley designs and the reverse plain silk . Machine pieced. There is a thin padding possibly sheeting.
2694 x 2287mm

A 'Farm Life Quilt' made from alternate squares of beige linen and brightly coloured cotton headcloth. The coloured squares are farm animals and birds in a variety of embroidery stitches. The beige squares have a cornucopia design embroidered in dark brown stem stitch. There is a wide border front and back of beige linen. The backing is brown and white check cotton. There is no padding.

Quilt top of plain, floral and printed cotton hexagons in a diamond pattern, separated by plain white hexagons. Hand written letters have been used as templates and some are still in position but the ink is faded and the writing now illegible. Tacking stitches are still in place.
3048 x 2210mm

Wholecloth quilt made from turquoise and red plaid brushed cotton, with a filling of a marcella bedspread with cut up pieces of knitted and crocheted garments stitched on top by hand and machine. Garment pieces are pink, red, yellow, black and pastels. Sleeves, collar and pockets can be clearly seen. Backing is an old blanket.

Patchwork quilt of cotton hexagon patches grouped in 'flowers', comprising 4 rings of patches around a central hexagon. Prints and plains are used, the colours mainly browns, greens, yellows, dark blue and dark pink. The 'paths' are in a yellow-brown cotton. Cotton backing. The padding is probably an old blanket. The quilt is an irregular shape, and is tied.
2550 x 1870mm