Quilt No.624PWH - The Pioneer Women's Hut
Description:
Quilt top of patches of tailors' samples and men's suiting pieces in dark colours, mainly black and grey. Machine construction. It has a border of rose coloured velveteen and the backing is a single piece of cream patterned flannelette.
History:
The quilt was made by Catherine Anderson of 'Selby Grange' Brockelsby NSW between 1912 and 1827. It was used in Catherine and Robert's home until 1945 when it passed to their son Jack and his wife Evelyn and later their daughter Joan (Hooper) who donated it to The Pioneer Women's Hut. It is displayed occasionally at the museum.
Story:
Catherine Anderson (born Knese) lived with her husband Robert, and their son, John Henry (Jack) in a wattle and daub house on 'Selby Grange' at Brocklesby, NSW from 1912 to 1927. The quilt was made for general use. When Catherine and Robert retired to Albury they also used the quilt in their new home. Following their deaths in 1945 the quilt was used in Jack's house, with his wife Evelyn and daughter Joan. When Joan married (Hooper) in 1949 she took the quilt and used it mainly while caravanning with young children in the 1950s, 60s and 70s.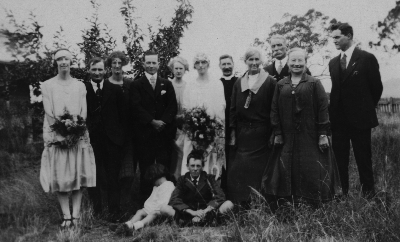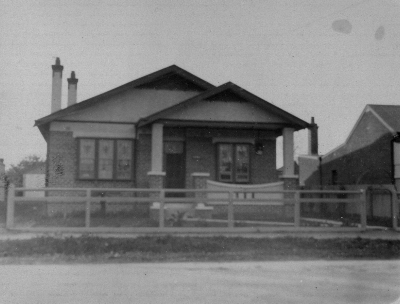 Related Quilts:

Hand sewn patchwork quilt with a pattern of blue stars. Each star consists of hexagons in the centre with part diamonds forming the star shape. The quilt is made from scraps. It is not padded and the backing is cotton and has a hexagon star border. 2660 x 2470 mm

Pieced squares, each square with a cross and 4 small squares in red. Crosses are in rows alternating 2 shades of blue and 2 of brown. Cream background. Now unlined but remnant blanket like material in corners. Originally had a cotton frill. Quilt was made from scraps of material used for making children's clothes.

The top of this utility quilt is machine pieced rectangles of woollen materials joined in strips. It includes corduroys and velveteens and woollen tartan. The backing is an Indian cotton blanket.
1651 x 1271mm

Patchwork quilt, machine construction in pink and white twill cotton, log cabin pattern. Each log cabin block was constructed with the backing in place, in groups of 4 blocks placed together. Each block 200mm in size.
2300 x 2050mm

Hand made cotton quilt in repeat block with appliqued Iris pattern. It is a kit quilt. "The Iris, Design "R" of the 'Mountain Mist Series' of Quilt Patterns" from The Stearns & Foster Company, Lockland, Cincinnati, Ohio. Copyright 1930. The backing is cotton and the filling also.
2439 x 1981mm

Patchwork quilt made of hexagons in silks, satins and brocades. Colours are soft, mainly creams and pastels, with some deep pink, yellow, dark grey and bright blue. Quilt is bordered with a wide band of light navy moire or faille. Padded, possibly with a blanket. Backed with cotton twill.
2420 x 1900mm