Quilt No.624PWH - The Pioneer Women's Hut
Description:
Quilt top of patches of tailors' samples and men's suiting pieces in dark colours, mainly black and grey. Machine construction. It has a border of rose coloured velveteen and the backing is a single piece of cream patterned flannelette.
History:
The quilt was made by Catherine Anderson of 'Selby Grange' Brockelsby NSW between 1912 and 1827. It was used in Catherine and Robert's home until 1945 when it passed to their son Jack and his wife Evelyn and later their daughter Joan (Hooper) who donated it to The Pioneer Women's Hut. It is displayed occasionally at the museum.
Story:
Catherine Anderson (born Knese) lived with her husband Robert, and their son, John Henry (Jack) in a wattle and daub house on 'Selby Grange' at Brocklesby, NSW from 1912 to 1927. The quilt was made for general use. When Catherine and Robert retired to Albury they also used the quilt in their new home. Following their deaths in 1945 the quilt was used in Jack's house, with his wife Evelyn and daughter Joan. When Joan married (Hooper) in 1949 she took the quilt and used it mainly while caravanning with young children in the 1950s, 60s and 70s.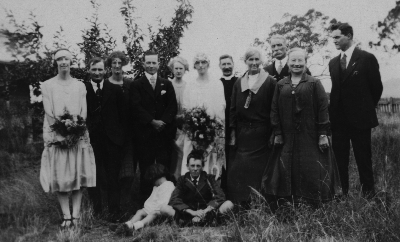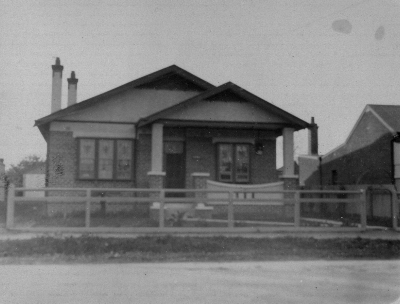 Related Quilts:

Patchwork quilt made of squares and rectangles in woollen fabric, stitched together without any particular pattern. Colours are mainly green, grey, blue, black, pink and some yellow. Fabrics are plain, checks and stripes. No padding, quilting or binding. Backing is a remnant of synthetic fabric. The quilt has been well sued and is very worn with fabric torn and marked in some places.
1400 x 400mm

All cotton hexagon quilt using a wide variety of colours and patterns. The hexagons were hand stitched by Sylvia Schleibs in the same style she and her daughter, Norma Gilchrist, had previously made 3 hexagon quilts. There is a calico border and backing.
2000 x 1450mm

Double sided patchwork quilt. Machined squares and rectangles joined in strips and then the strips joined. Wide variety of materials, mainly woollen from hand or machine knitted jumpers, many patched. All materials came from worn garments from family and friends of the maker. No padding.
1860 x 1410mm

Quilt in mauve, pale blue and white squares, with wide borders of floral and off white. The quilting is a centre medallion with leaves on the border, and cross hatched over all. The padding is cotton batting, and the backing is plain white cotton. 2180 x 1900 mm.

Double sided patchwork quilt. Both sides have central frame surrounded by borders. Side 1 has diamond of squares set in a square frame 490mm. Borders are squares and triangles. Side 2 is central frame of squares on point surrounded by plain grey velvet border then marroon border. Materials are cottons, silks, velvet, crepe, rayons in a wide variety of colours and apperned and plain. Machine construction. No quilting. Padding is a cream wool blanket.
1440 x 1420mm

Wholecloth quilt made from orange cotton cretonne for back and front. Padding is made from old blankets stitched together. The quilt weighs 16 lb.
1423 x 1118mm