Quilt No.112MH - Muriel Hartmann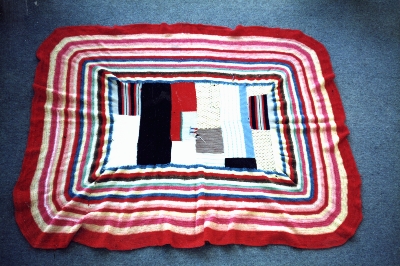 Description:
Reused parts of hand knitted woollen jumpers patched together. Wide crocheted edge from wool unravelled from jumpers retrieved from the tip.
1905 x 1525mm
History:
Made by Elsie Hartmann , 1910-1996, at Blackall Queensland. It is typical of many she made for warmth and of necessity. Now owned by her daughter-in-law Muriel Hartmann.
Story:
"With the wool pack Wagga I may not have used two side pieces. One piece formed the top and side and the other piece side and bottom. The two pieces stitched together and the ends bound with coloured material to stop the ends unraveling. I think that's how it went. We could not afford to buy blankets. At the time my husband worked for a sheep farmer in northern N.S.W and we had 3 small children and it got very cold in the winter then. The frost hung in icicles off the fences and off the cows noses, the wind was very cold blowing through the house. I used wheat bags opened up under the mattress with newspaper to keep the cold air from coming up and the Waggas on top. Some of the old army blankets I used for Waggas belonged to my great uncle Ben Stephens who had come out to Australia as a teenager from England. He worked on properties , living in old huts, fencing and so forth.
My mother in law could not afford new blankets and was a very thrifty person and made do with what she could and made the rugs out of old jumpers cut up and crocheted around with wool unpicked from other old jumpers. Some she had picked up from the town dump. Some were jumpers she had knitted for her grand children and had shrunk as well as growing out of them. I had given them back to her for the rugs. I think the last one she made and the one I have were made about 1975. She had made Waggas with bags and blankets too.
My Mother did too as during the war and with coupon rationing she had to make do with what she could. She made all our underclothes from white flour bags boiled up to get the name off the bags. Mum made all her own bread so she had plenty of bags.
My great aunty Adelaide did too and made us children strip corn husks to make mattresses. They made plenty of noise when one turned over on them. The old saying hard work never killed anyone as my aunt lived well into her nineties, nearly made 100 and so did her sister. They lived on the land working dairy farms through two world wars and the depression.
P.S. I did not use the Wagga to cover up plants from the frost this winter, have packed it away."
[Muriel Hartmann 1997]
Related Quilts:

Cotton scrap quilt in a pattern known as 'Grandmothers Fan'. It is hand quilted. The padding is hand carded cotton and the backing is muslin.
2235 x 1880mm

Patchwork quilt of hand sewn hexagons in a variety of print and plain cotton fabrics from 1950-1960. Colours are mainly pinks, blues, greens and yellow, with some red, and white. Quilt has a wide border of yellow poplin, which also forms the backing. No padding.
2280 x 1520mm

4 Pieces of a patchwork quilt which was formerly a whole quilt. It is pieced in cottons in blues reds and browns in many prints. There are whole circles and pieced circles against a plain cream calico background. It is wool lined and is quilted. There are the initials 'A.B.' and '1828' on a central piece. The 4 pieces are various sizes.

Log Cabin quilt featuring centre square and 3 outer borders. Evidence of later repairs and additions by machine and hand sewing. There is white paint on it. The log cabin pieces are sewn on to black netting. There is no padding and the backing is a centre piece of gold damask/sateen and green and black sateen borders.
1728 x 1321mm

"The Rajah "quilt" is a patchwork and appliquéd bed cover or coverlet. It is in pieced medallion or framed style: a popular design style for quilts in the British Isles in the mid 1800's. There is a central field of white cotton decorated with appliquéd (in broderie perse) chintz birds and floral motifs. This central field is framed by 12 bands or strips of patchwork printed cotton. The quilt is finished at the outer edge by white cotton decorated with appliquéd daisies on three sides and inscription in cross stitch surrounded by floral chintz attached with broderie perse on the fourth side. All fabrics used in the Rajah quilt are cotton with the exception of small amounts of linen and silk threads. The quilt shows evidence of being produced by many hands." [NGA] The quilt is not padded or lined. 3372 x 3250mm

Quilt of scrap hexagons. Hand pieced over papers with some papers still in place. Materials used include seersucker, plisse, chambray and various other textured cottons used in dressmaking. The owner has restored the quilt. The backing is a soft cotton in indigo blue and the padding is flannelettte. "I machine tied the quilt in its restoration using cream cotton at the intersections so that it doesn't impinge on the interesting fabrics and the overall scrap effects." [Marie Pye]
2590 x 2170mm