Quilt No.693RA - Rhonda Allardice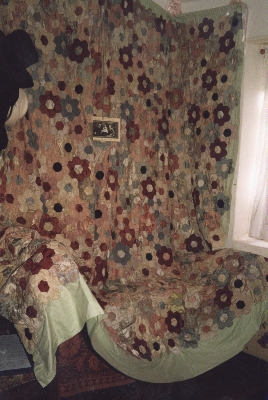 Description:
Hand stitched quilt constructed entirely from hexagons formed into rosettes or 'flowers'. 7 hexagons to each flower and 440 flowers in the quilt. The material used is mostly upholstery pieces. There is no padding and the backing is pale green cotton. Cardboard templates were used.
3300 x 2400mm
History:
This hexagon quilt was made by Mrs. Florence Gertrude Awyun (born Taylor) in Footscray Melbourne c.1938. It then passed to Rita Bowe, Florence's daughter and now belongs to Rhonda Allardice, Florence's grand-daughter. Florence used the quilt for approximately 35 years on her bed. It was the displayed for 8 years at Historic Bowe's Cottage, Maldon, Vic and is now on display at the Milliner's cottage, Port Fairy.
Story:
"The Story of the Quilt
It's maker: Florence Gertrude Awyun (nee Taylor)
Born 30th April 1891 - Snapper Point, Mornington, Victoria. Father's occupation - Brickmaker
1900 - Family shifted to Clifton Springs, near Drysdale, Victoria. Father's occupation - Fisherman. Florence worked as a domestic maid.
1905 - In Queenscliffe at a Doctor's Home. At the Federal Hotel, Melbourne (where she was exposed to the elegance of the upper class)
1909 - At Mac's hotel, Portland where she met Thomas Awyun (who cleaned Patron's boots).
1911 - Florence and Thomas went to Broken Hill. They married - Thomas was employed as a miner. They lived in a relocated corrugated iron home - Florence talked later in life of the heat during this time and how she hosed the house down at night time. Daughter Rita born 1913.
1915 January 1st - Florence and Rita were passengers on the 'Picnic Train' to Silverton. It became the scene of the only enemy attack on Australian soil during World War 1 - by 2 Turkish men. During the 3 hour battle 4 people were killed and 7 injured. There were 1200 passengers on the train, mainly women and children. (Florence talked about this often later in her liofe - very traumatic.)
1916 - The family shifted to Footscray where Thomas worked at The Maize Products on the Maribyrnong River. They had 2 children now. Rita and a son Jack.
1917 - Third son, Leslie born.
1918 - Son Jack died of diphtheria whilst holidaying at his Grandparents home in Clifton Springs. He was aged 4.
1914 - Son Robert born.
1919, 1930s - "Depression" years. Thomas was unemployed for 4 years. They took in a border who paid 12/6 a week - it covered the Mortgage repayments and Florence was an excellent homemaker who 'made do' - growing vegetables, sewing, crocheting, tatting etc. The quilt was made during the late 1920s using upholstery fabrics - Robert was an apprentice upholsterer who worked on high quality furniture 'the other side of Melbourne' at a company called Branchflowers. It took years to complete the quilt and was used on her bed until she died in 1975. Each year Florence displayed this quilt at Footscray Hospitals Annual Fete. Florence was awarded a Life Governor's Certificate for her charity work for the hospital.
1963 - After nursing Thomas through a very long illness he died. Florence herself suffered for a number of years as a result of this time.
1975 - Florence, still living in Footscray, took ill suddenly. When the family tried to have her admitted to Footscray Hospital for care - she was refused entry because of her age (over 80 policy at the time). (The family were devestated - upset when amongst her items they found 'The Life Goveernor's certificate' - all the work she had done and they refused to care for her.)
Florence passed away 1 week later in Werribee Hospital. Died - 19th May 1975 - Aged 84 years.
Florence was a gentle lady, an excellent homemaker (who often submitted entries scones, cakes, to the Royal Melbourne Show - collecting numerous prizes) caring Mother and Grandmother - who loved to be elegantly groomed - especially church days."
[Rhonda Allardice 1999]
Related Quilts:

Quilt of scrap hexagons. Hand pieced over papers with some papers still in place. Materials used include seersucker, plisse, chambray and various other textured cottons used in dressmaking. The owner has restored the quilt. The backing is a soft cotton in indigo blue and the padding is flannelettte. "I machine tied the quilt in its restoration using cream cotton at the intersections so that it doesn't impinge on the interesting fabrics and the overall scrap effects." [Marie Pye]
2590 x 2170mm

Quilt with alternate red and white diamonds in cotton, with wide border of white cotton and a white cotton crochet edging. All diamond patches and edging were joined to white border decorated with feather stitch. White border edged with zig-zag white feather stitch. Centre rectangle of white has 4 red petals edged with white feather stitch and 4 red diamonds each embroidered in white clockwise: '1898', 'R', 'L', 'K'. Diamonds edged with feather stitch. There is no padding and the backing is white cotton.
2420 x 1740mm

Double sided quilt. Side 1 has a central patch of small rectangles and borders of half square triangles. Seamed construction. Side 2 is crazy patch in wools and cottons on to a backing material. There is one round segmented circle in the centre. Machine pieced and quilted.
2050 x 1610mm

Cotton frame quilt with a diamond in the centre of the frame and a border of straight pieces. The outer border is diamonds. The quilt is hand sewn and hand quilted.
1910 x 1830mm

Patchwork quilt made from hexagon patches on one side, and squares and rectangles on the reverse. Cottons are used, mostly from dressmaking, in bright and light colours. The hexagons form an indented edge on all sides; on the back the rectangles have been cut at the edge to match the hexagon shapes. Hand sewn, the edge machine sewn.
No padding.
1551 x 1373mm

Large centre rectangle of hexagons in various colours of patterned and plain cottons. It is surrounded by a wide border in a checkerboard of red and white cottons. There is a wholecloth cotton backing. The front and the back have been turned under at the edge and machined. There is no padding.
1829 x 1372mm