Quilt No.735AVB - Army Museum Victoria Barracks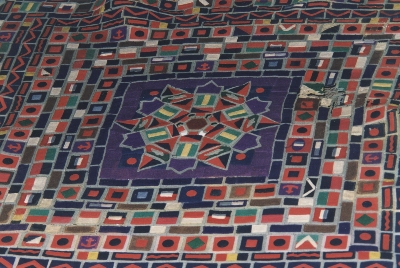 Description:
Almost square top made of military colour patches of woollen material machine sewn on to blanket pieces, then each piece hand stitched together. The top is a frame style with central group of patches in a star motif with colour patches set in borders around the centre. There is no padding and the backing is the blanket pieces.
2143 x 2090mm
History:
This quilt was made by the RSL Ladies Auxilliary in Taree NSW about 1946. The top includes some colour patches which were not issued until 1945. The Ladies Auxilliary donated the quilt to the Army Museum Victoria Barracks Sydney.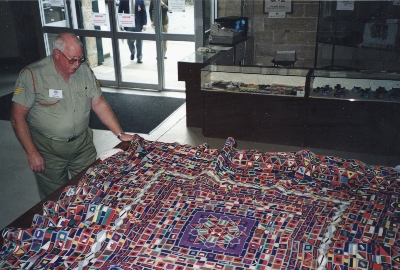 Related Quilts:

Pieced patchwork quilt of hexagons in cottons, chintzes and linen. The centre is pieced in 6 point hexagon stars, then radiating out are large hexagons alternating with tumbling blocks, then 6 piece hexagon stars and 4 piece hexagon diamonds. Some pieces have Egyptian patterns dating from 1800 - 1805. The backing is cream linen.
2450 x 2200mm

Utility quilt hand and machine sewn. The top has a centre frame of hand sewn hexagonal patches in a mix of dress materials and shirtings with four corner flowers and a roughly circular ring in red and blue stripe. The inner border has rectangular pieces in red/yellow/green/white hexagon printed material alternating with a blue/white spot. The outer border consists of large pieces of material, predominantly pink and blue stripes and checks. The backing is mainly red/white printed cotton. It is quilted all over in a diamond pattern. The padding is mainly flannel and has been made from another quilt.
1975 x 1675mm

Double sided utility quilt made from machine pieced squares of tailors' samples and men's and boy's suitings. The padding is 5 or 6 layers of pieced used clothing including darned, threadbare socks, part jumpers, blanket pieces etc.
2090 x 1340mm

Patchwork quilt in Log Cabin pattern, arranged in 'furrows', and made from cottons, wool and suiting fabrics. Centres of blocks are pastel or dark; dark colours are black, brown, purple blue and red. Pastel side of blocks includes a bright pink. Quilt backing is pieced, with a centre rectangle of cotton surrounded by 5 borders of plain and alternate rectangular pieced strips, in wool and suiting fabrics. Colours are black, dark blue, brown, green, grey and pastels. Inner lining is of cotton pieces, to which the Log Cabin blocks have been machined.
1620 x 1360mm

Patchwork quilt, all cotton including cotton filling. "8 pointed star" with turkey red surround, white background. Hand stitched and hand quilted.
2109 X 1727mm

Cotton quilt in 'Wedding Ring' pattern. Background material is calico type in cream and the rings are in pastel colours, yellow, pink, blue and green prints and plains. It is hand pieced and hand quilted and the edges of the quilt are scalloped and finished with a pale pink binding. The backing is cotton and the padding is cotton.
2200 x 1900mm