Quilt No.761PHM - Powerhouse Museum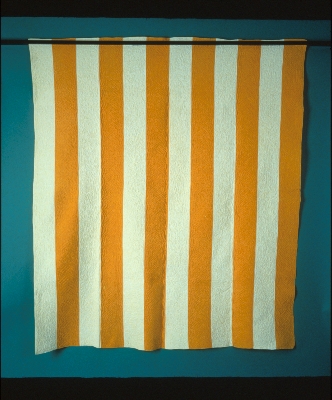 Description:
"A Northumberland quilt made from strips of saffron and white cotton; each strip is approximately 170mm wide. The quilt is hand quilted with a different pattern in each stripe: the saffron stripes have quilted plant patterns and the white stripes have curving leaf and floral patterns. The quilt is padded with white cotton wadding and backed with white cotton fabric." [PHM]
2250 x 2110mm
History:
"The maker of the quilt was Hannah Reed, nee Coulson. The quilt was made in Hannah's home and the name of the farmlet was 'Swinhope Mill' of Swinhop, Sparty Lea, Allendale, Northumberland, England.
"The quilt was passed down through the family. It was left to the donor's aunt, Phyllis Jane. Then it was passed on to the donor's brother, Thomas William Ritson, next to the mother Ruth Ritson. Ruth brought the quilt to Australia in 1914 and passed it down to Lavinia McFadyen in 1919, just before she died. The quilt was not used, but kept as a treasure and donated to the Powerhouse Museum in 1985." [PHM]
The quilt is used for research and exhibition only.
Story:
"Hannah Reed died at the age of 77 in 1892. At that time she was living with her daughter Ruth; her granddaughter Lavinia was 12 years old. On 8 February 1983, Lavinia McFadyen wrote:
'My Grandmother Reed was a thrifty, hardworking lady and was left a widow when Grandpa died at 55 years. I'd say she made and helped make several quilts in her time. She died at 77. When you read the quilting history I'm sending you'll see it was very time consuming. My aunties were all very good needlewomen and my mother taught needlework at a girl's school until she married and I had a beautiful display of quilts and much fancy work at my 2 sales. I gave a lot away until friends asked me to sell it.' "
[Lavinia McFadyen for the Powerhouse Museum]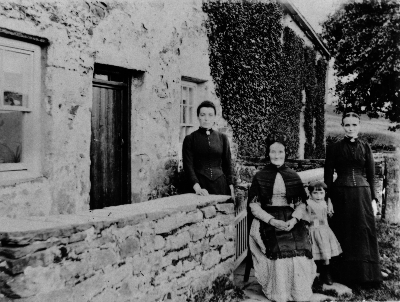 Related Quilts:

Small square piece of crazy patchwork in silks and taffetas. Many of the seams are oversewn with decorative embroidery stitches. There is a calico backing.
550 x 550mm

Rectangular quilt of print and plain
cottons pieced in squares and rectangles within 2 frames, the inner border or frame of blue/green check material, then 2 rows of squares and rectangles, the outer frame of a grey and red geometric pattern and 2 rows of squares or rectangles. Backing of plain fabric. Machine stitched on a treadle machine.

The top is machine pieced patches of used clothing. The backing is large pieces of dress materials and either end patches similar to the top. The padding is a chaff bag or similar with patches of worn, matted children's jumpers sewn directly on to it.
1400 x 1150mm

Cotton quilt made in the USA. The pattern is 'Nine Patch'. The quilt is machine pieced and hand quilted. The backing is cotton material possibly shirting. The padding is cotton.
1702 x 1702mm

Block pattern consisting of a circle, hexagon and circle within a square. Cotton dressmaking fabrics with a few plain creams. Hand pieced and hand quilted. At some stage has been machine reinforced. Now faded, worn and damaged especially one end. Quilting pattern is four leaf clover inside large cable. The backing is 4 different pink toned fabrics in longitudinal stripes. Cotton batting. 2620 x 2300mm

Grandmother's Flower Garden, also known as French Bouquet. The quilt comprises 181 flowers. No padding is used. Each flower has seven hexagonal patches, cut from a metal template pattern. Floral and plain silk materials are used and mounted on pale blue moire taffeta.
3050 x 2031mm