Quilt No.90AG - Anne Gardener
Description:
Quilt made from woollen dressmaking scraps, sewn to an army demob issue blanket, grey with blue stripes. Patches are feather stitched in red broder cotton thread. Quilt is edged with red cotton material zig zagged into place. Colours are pink, blue, brown, black and grey, in plain cloth, weaves and checks.
1462 x 966mm
History:
Made by Anne Gardener, the present owner, in 1955 while living on a sheep property 'Calala' near Hannaford, Queensland. The quilt is now at another location and is used occasionally.
Story:
The quilt was used on children's beds and also while listening to the radio at night when it was chilly. The owner mentioned that their car was not air conditioned so the quilt was taken on trips to provide warmth.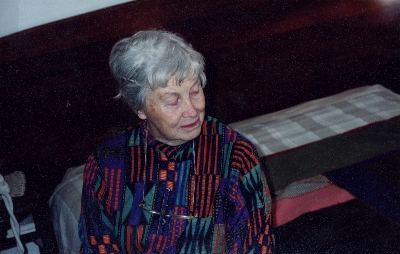 Related Quilts:

Pieced hexagons, English paper method. Large hexagons form the centre with a border of smaller hexagons. The fabrics are all cotton in a wide range of colours and patterns. There is no padding. The backing is cotton, large white floral design on dark blue. The hexagons are hand pieced and the edges machined.
2480 x 1420 mm

Small quilt made from pieces of heavy weight wooollen coat material cut into strips and machined together. It is reversible. Each side is made from different materials but in similar colours of aqua, blue, green and beige. The 2 layers are quilted together with a few machined lines of straight stitching. It has a folded and machine stitched edge. There is no padding.
950 x 790mm

The quilt is constructed from machine pieced diamond shaped striped flannel materials. The backing is the same. The padding is not visible but is thought to be worn out woollen clothing, unpicked and ironed flat.
1520 x 970mm

Patchwork cot quilt, machine pieced, rectangular, 5 x 4 squares. Assorted fabrics including seersucker, corduroy, printed and plain cottons. White ric-rac braid and zigzag machine stitching accentuate rows. Edge of white cotton tape. Backing is single flour bag, calico, with maker's printing visible through patchwork: 'Tiger. Best Australian Roller Flour. Mala Foot. Sole Supply. Part of Kuala Lumper' and Chinese characters.
674 x 540mm

Cotton patchwork cover constructed from hand sewn hexagons (65mm) in cotton and linen furnishing materials. The curved edges are bound with blue and cream printed striped cotton. The backing material is not visible.
941 x 261mm

Patchwork quilt made from hexagon patches in silks and rayons, in pinks, blues, red, yellow mainly, with pastels. No padding. Bordered and backed with green satin.
1829 x 1372mm