Quilt No.851AG - Annette Gero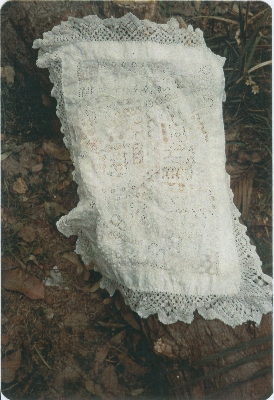 Description:
Small quilt probably made for a child's doll or for a pram. It is entirely made of white broderie anglais pieced in a crazy patchwork style. There is a wide lace border around the quilt.
740 x 580mm
History:
This small quilt was made for Esmee Davies of Werris Creek NSW c.1900. It is now in the collection of Annette Gero.
Related Quilts:

Quilt with log cabin blocks forming centre rectangle with border of crazy patchwork, in silks and velvets, handsewn on to backing of blue, beige, white woven cotton. Log cabin blocks are in rich dark and light rows forming diagonal stripes. The crazy patchwork has edges decorated with yellow and cream feather stitch. Mostly plain materials with some checks and stripes. The quilt appears to have had the edges cut down. The outer border is a dark blue figured velvet. There is no padding and the backing is maroon silk with a woven yellow motif.
1655 x 1215mm

Suffolk Puff quilt with puffs mainly in patterned cotton pieces saved from 60 years of household sewing. Puffs are formed into rosettes and the holes are on the top making a decorative feature. It is hand sewn.
2700 x 2400mm.

Frame quilt pieced from square, rectangular and triangular pieces from plain and patterned cotton. The central motif of the rooster is appliqued in red cotton on white background with a border of red triangles. There is a white cotton backing.
2000 x 1925mm

Quilt with alternate red and white diamonds in cotton, with wide border of white cotton and a white cotton crochet edging. All diamond patches and edging were joined to white border decorated with feather stitch. White border edged with zig-zag white feather stitch. Centre rectangle of white has 4 red petals edged with white feather stitch and 4 red diamonds each embroidered in white clockwise: '1898', 'R', 'L', 'K'. Diamonds edged with feather stitch. There is no padding and the backing is white cotton.
2420 x 1740mm

Patchwork quilt made from hexagon patches on one side, and squares and rectangles on the reverse. Cottons are used, mostly from dressmaking, in bright and light colours. The hexagons form an indented edge on all sides; on the back the rectangles have been cut at the edge to match the hexagon shapes. Hand sewn, the edge machine sewn.
No padding.
1551 x 1373mm

Grandmother's flower garden pattern. All cottons with plain centres to 'flowers' then row of prints and outer row of plains. One hexagon flower has been repaired. Scalloped edges bound with yellow. Hand quilting around the hexagons. The backing is cream cotton and the padding is thin cotton. 2140 x 1780mm.