Quilt No.888NTNW - National Trust of Australia (NSW)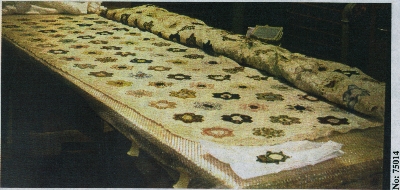 Description:
Hand sewn quilt comprising 263 rosettes of hexagons in chintz. 6 hexagons around a centre one form a rosette. Between these are plain off white hexagons. There is a mark on one corner on cream material, possibly a stamp. The crochet lace border is on three sides only.
2850 x 2720mm
History:
"The Macarthur quilt has been handed down through four generations of the family of Elizabeth Macarthur's daughter Mary Bowman until, with the death of the last Bowman owner, it was arranged that it had come to the National Trust of Australia. Its exact history has been lost, although it was attributed within the family to Mrs. Elizabeth Macarthuir, wife of John Macarthur and mistress of Elizabeth Farm." [NT NSW]
The quilt is now part of the collection of the National Trust (NSW).
Related Quilts:

Repeat block in Dresden Plate pattern using various cotton fabrics from the 1920s. Quilted with a flower in the purple/pink centre and squares elsewhere. Border is furnishing fabric. The padding is cotton that is disintegrating and the backing is calico. 1980 x 2100mm

Small patchwork piece possibly made from salesman's samples. There is no opening in the back so it is not a cushion cover. There is no padding. The backing is green polished cotton. There is a 40mm fringe around the edge.
520 x 520mm

The quilt is called 'Loved'. The pattern is log cabin and it is made from dress materials and pyjama flannelette. The original filling was a heavy woollen blanket (now flannelette) and the backing is green headcloth - all government issue. With its restoration, the backing was supplemented with a green floral, and the quilt is now tied. The quilt is machine pieced, some restoration work is done by hand.
2260 x 1920mm

Hexagon quilt made by hand from a wide variety of cotton materials. There is no padding and the backing is calico.
2286 x 915mm

"A medallion or framed quilt in design. There is a central field of small patchwork diamonds, and from this radiates plain stripes of fabric bordering areas of patchwork panels. The edge of the quilt carries bands of red cotton, which are slightly larger at the top and bottom edges, and here the band is additionally decorated with appliqué diamonds. The fabric of the patchwork is cotton in fine plain weave of pale coloured florals and small geometric designs. The framing and border stripes are of bright red twill weave cotton. The small diamonds of the central field are hand sewn, with more use of machine stitching around the outer edge of the quilt.
The quilt is not padded. The patchwork is fully lined with a printed plain weave cotton fabric with a design commemorating Queen Victoria's Jubilee. The design is based on a repeated grid of circles. In the centre of each circle is a cameo of Queen Victoria, surrounded by images of the national flowers of England, Scotland and Ireland: the rose, the thistle and the shamrock. The edge of the front face of the quilt is trimmed with a red and white cotton braid." [NGA] 2380 x 2220mm

Patchwork knee rug made from maroon wool cut up from a garment into different sized rectangles. Pieced by hand, then all edges crocheted with coloured wool thread. The top was then machined and quilted to a pale blue wool backing. No padding.
1080 x 780mm