Quilt No.934DB - David Beasley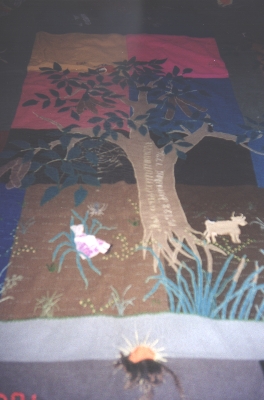 Description:
Pictorial quilt, pieced randomly from wool. Hand appliqued and embroidered. It has a central Miss Muffet theme with the spider and cattle under a tree. There is a 'Centenary Border 1836 - 1936' and an inscription 'Good Times, Let's Look Back'. The backing is 2 pieces of plaid suiting in grey/blues.
2000 x 1490mm
History:
This pictorial quilt was made by Matilda Hutchinson (born Loader) and was completed in 1936 for the Royal Agricultural Show of that year. It was passed on to Matilda's daughter Linda Grant and is now owned by her grandson David Beasley.
Story:
Matilda Loader (later Hutchinson) was born in 1865 one of 3 daughters of Emma Jane Loader. She died in 1961 and is buried at the Payneham cemetery in SA.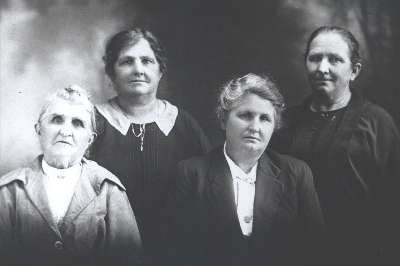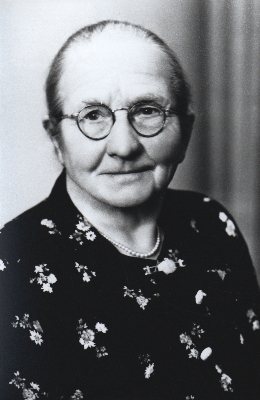 Related Quilts:

Quilt made from blocks in a fan pattern, 5 blocks across by 6 down. Fans are set on a black background, materials are wool and cotton in a mixture of plains and patterns. Edges of fans are decorated with cream herringbone stitch. Machine pieced with hand stitched repairs.Cream cotton backing folded over to make binding, stitched with pink herringbone stitch. Tied regularly with pink thread. The quilt is padded with wool.
2000 x 1720mm

Wool patches in large Tumbling Block pattern. Plain colours, blues, orange, gree, red. Seams are over embroidered with silk thread in herringbone stitch. Backing is 'Molleton', red with yellow pansy design.
2490 x 2236mm

Square quilt top. Floral centre piece with borders of squares set in a diamond pattern. Squares are in plain colours and patterns. There is no padding or backing.
920 x 920mm

"The quilt is made up of many cotton hexagons of various colours, patterns and designs, finely sewn by hand, making a very attractive bedspread. Each patch is lined with lawn. It is quite a heavy quilt, with its plain border, and backing of home-spun cotton or cesarine. The family always called it a 'cottage design'."
No quilting.
2312 x 1905mm

Machine pieced cot quilt made from squares of material including tweed, wool, blanket and pyjama material. The squares are joined in rows with colours randomly placed. There is a pink satin edging. The backing is part of a pale pink blanket.
1150 x 900mm

This quilt is allover crazy patchwork not done in squares. Many pieces are awkward shapes. In the centre is a 150 x 150mm square of squares each 25mm repeating some of the materials in the quilt. Most of the materials are velvets, satins and silks. There is a border of red and green patterned wool and all seams are feather stitched in a thick gold thread. The padding is thought to be flannelette and the backing is polished cotton in faded red and green.
2560 x 2160mm