Quilt No.937AWM - Australian War Memorial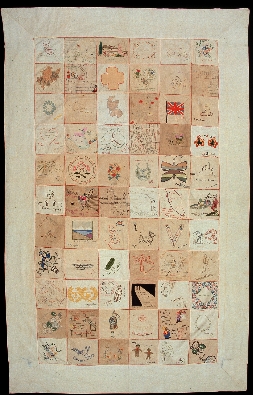 Description:
"Quilt made up of 66 embroidered squares, each 'signed' in embroidery with the maker(s) name. All the squares are edged with turkey red chain-stitch. The squares are bounded by a broad white cotton border, and the same material has been used as a backing. The back of the quilt has red embroidery stating 'Presented by the women of Changi internment camp 1942 to the wounded Australian soldiers with our sympathy for their suffering. It is our wish that on the cessation of hostilities that this quilt be presented to the Australian Red Cross Society. It is advisable to dry clean this quilt....
History:
This quilt is one of 2 signature quilts made by some of the 400 civilian internees in Changi Prison during the first 6 months of their captivity, from March 1942. They were made for the Australian Red Cross and the Japanese equivalent and are at the Australian War Memorial. A third quilt is held by the British Red Cross. It was hoped that the Japanese Red Cross quilt might sway their captors to send the first quilt to Australia. However the authorities returned both quilts to Colonel Collins the senior medical officer, who gave them to Colonel R.M.Webster the medical officer in charge of the Australians at the hospital at Kranji, with the request that one should go to the Australian Red Cross and the other to Colonel Webster's wife. Both were donated to the Australian War Memorial, the latter in 1968 by Mrs. Webster.
Story:
The quilts were the idea of a Canadian internee, Mrs. Ethel Mulvaney, who had been a Red Cross representative in Singapore. Making the quilts was designed to alleviate boredom, boost morale and pass information to men in other camps. Each woman was asked to put something of herself into her square. As a result some squares contain quite obvious messages and others are purely decorative.
From 66 squares the work of only 4 Australian women are represented: Dr. Margaret Smallwood, Sheila Allen, Judy Good and Helen Loxton.
"It is likely that a quilt was made for the Australian Red Cross not because there were many Australian internees, but because it was assumed that the Australian Red Cross would play a major part in supplying aid to Singapore and POWs in Asia. In the event the Japanese blocked the distribution of Red Cross parcels from Australia."
[Australian War Memorial]
Related Quilts:

Utilitarian cot quilt. The padding is layered reused woollen materials, parts of old blankets, part overcoats. These are stitched together with string and knitting wools The top and backing are printed cotton. There is a frill all around and buttons have been used to anchor the padding layers to the outside cover.
1169 x 915mm

Crazy patchwork quilt made from silk, brocade and velvet pieces, the seams covered with feather stitching in yellow silk. Fabrics are plain, and patterned with tartans, woven spots, stripes and floral brocade. Colours are rich, mainly red, pink, blue, green and cream. Quilt has a patterned velvet or velour border with urns and flowers in pale olive green and black, edged with a fringe in these colours.
1090 x 1040mm

9 large blocks of crazy patchwork in silks and velvets. The blocks are divided by strips of deep ruby coloured silk. There is a wide ruby border with peaks to which is attached cream lace. The backing is beige silk. The main blocks are outlined with feather stitch in gold thread and many individual patches are outlined in fancy stitches and have embroidered motifs some of which are Australian eg centre patch has Sturt's Desert Pea flowers, parrots, wattle. There are also English flowers, Japanese motifs, flags, domestic objects and Marianne's initials. Embroidery is in a variety of threads including chenille.
2250 x 2180mm

This hand pieced and hand quilted hexagon quilt is in a pattern often called 'Grandmother's Flower Garden'. The background is white and there are concentric rows of double rosettes each with a yellow centre. The colours start in the centre of the quilt with pink and then follow the rainbow. Paper templates were used. The padding is cotton (American) and the backing is cotton floral poplin.
2360 x 1730mm

Large squares, alternate brown check and blue check, of men's dressing gown material. "Everyone's father had one in 40s and 50s". [Pam Clifford]. No padding. Backing is smaller random shapes of men's grey suiting material. Machine construction. There is no quilting.
2236 x 1550mm

The top has a segmented circle in the centre surrounded by a border of small rectangles. The circle is featherstitched on to the background. Materials are wools and cottons and it is hand pieced. The other side appears to have been originally men's suiting materials strip pieced. It is now covered with a children's print in light cotton joined in long rectangles. The padding is coarse heavyweight cotton.
1410 x 1080mm