Quilt No.94SR - Sharlene Rogers (for Nadia Brookes)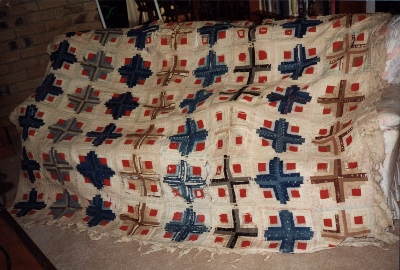 Owner:
Sharlene Rogers (for Nadia Brookes)
Description:
Pieced squares, each square with a cross and 4 small squares in red. Crosses are in rows alternating 2 shades of blue and 2 of brown. Cream background. Now unlined but remnant blanket like material in corners. Originally had a cotton frill. Quilt was made from scraps of material used for making children's clothes.
History:
The quilt was made by Elizabeth Mary Smith (born Potts) in the early 1900s. It passed to the maker's grand-daughter, Nadia Brookes and has been registered by her daughter(the maker's great grand-daughter) Sharlene Rogers. The quilt is not used.
Story:
Elizabeth Mary Smith, 1856 - 1946, was married at 17 and emigrated to Australia with her husband Tom some time later. She had 11 children and one was born either on the ship or shortly after their arrival in Australia. 2 babies died at birth.
Tom and Elizabeth Smith took up land in 1897 near Miriam Vale (Qld) and called it "Smithfield". They originally lived in a 2 roomed slab hut which later became the chook house. Their house was the first 2 storey one in the district and was made from pit sawn timber. Sharlene's grandfather, Donald Smith, remembered the house being built and that it was up by 1912.
Nadia Brookes (maker's grand-daughter) lived at "Smithfield" and remembers the quilt on the bed but not her grandmother making it. She was 12 when her grandmother died.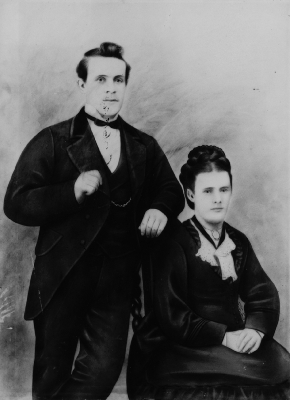 Related Quilts:

Quilt with alternate red and white diamonds in cotton, with wide border of white cotton and a white cotton crochet edging. All diamond patches and edging were joined to white border decorated with feather stitch. White border edged with zig-zag white feather stitch. Centre rectangle of white has 4 red petals edged with white feather stitch and 4 red diamonds each embroidered in white clockwise: '1898', 'R', 'L', 'K'. Diamonds edged with feather stitch. There is no padding and the backing is white cotton.
2420 x 1740mm

Quilt of pale yellow cotton sateen with a centre star motif with 8 points in pink cotton sateen. A border of pink cotton sateen has pink triangles on each side. The quilt is machine sewn and elaborately hand quilted with designs including fleur-de-lys shape, feathers, vine pattern, clam shells, 8 petalled flower and cable pattern with the main ground cross hatched. The backing is pale yellow cotton sateen.
2235 x 2065mm

Patchwork quilt made from hexagon patches on one side, and squares and rectangles on the reverse. Cottons are used, mostly from dressmaking, in bright and light colours. The hexagons form an indented edge on all sides; on the back the rectangles have been cut at the edge to match the hexagon shapes. Hand sewn, the edge machine sewn.
No padding.
1551 x 1373mm

Grandmother's flower garden pattern. All cottons with plain centres to 'flowers' then row of prints and outer row of plains. One hexagon flower has been repaired. Scalloped edges bound with yellow. Hand quilting around the hexagons. The backing is cream cotton and the padding is thin cotton. 2140 x 1780mm.

Randomly patched quilt in many different colours and fabrics. There are appliquéd shapes over many pieces including Suffolk Puffs, hearts, hexagons and other shapes. There is an embroidered inscription "A11 to S11 1829" which is thought to mean AN to SN 1829. There is no padding and the backing is white cotton.
2000 x 2200mm

Patchwork quilt in Grandmother's Flower Garden pattern consisting of groups of 7 rosettes and single rosettes with white filler hexagons and a border of rosettes alternating with 'bow tie' shapes of 5 patches in the middle of the quilt. Hand sewn in cotton dress and shirting materials , the colours mostly blues, pinks, reds, brown and white. The quilt top is covered in netting. There is no padding and the backing is cream cotton twill.
2270 x 2080mm