Morphett's Engine House Museum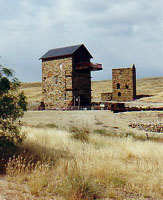 The enginehouse has been fully restored (1986), apart from the original engine. A scale model (1:16) is fully operational and explained by guides. Videos (x3) provide further relevant information as do information boards on all three floors. Walks outside include; via a restored adit into the retimbered shaft, access to Morphett's Windinghouse, pool, mine offices and cottages, Grave's enginehouse and view of open-cut mine.
Address:
2 Market Square, Burra, SA
Hours:
11am-1pm Mon, Wed, Fri; 11am-2pm Sat, Sun & public holidays
Admission:
Adults $4.50, children/concessions $3.50, family $10
Facilities:
Wheelchair access to ground floor, videos and walks (outside). Guided tours (pre-booked). Brochures and sale of related books and souvenirs. Toilet facilities. Cold drinks.
Collection:
Model and information boards mentioned above. Scale model of jinker. Mining artefacts, including cabinets inside of more sensitive material (e.g. 1820's pocket bible). Quality samples of malachite and azurite (two forms of copper ore mined on the site).