Broomehill Historical Society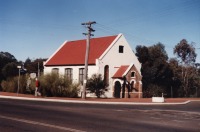 A small brick building built in 1898, originally a hall then converted to a church, houses a miscellany of items of historic interest, particularly associated with Broomehill and its residents. Displays of copy prints of photographs of people, places, and events are featured. A large galvanised iron shed - previously a Shire Depot - containing a small quantity of unrestored agricultural equipment and vehicles is part of the museum.
Address:
Journal Street, Broomehill, WA
Hours:
On request or on special occasions
Facilities:
Wheelchair access limited
Collection:
Museum: approx 450 items including domestic equipment, personal effects and memorabilia, small items of farming equipment, autobiographies, memoirs, and reminiscences of past residents, local government records, records from voluntary clubs and groups. Approx 300 photographs including a few portraits of past residents - also copy prints of images of people, places, and events c1890-c1950. Post 1950 coloured pritns of images of local activities. Shed: 50 items including farm vehicles, machinery and equipment; local government machinery & equipment.