Vancouver Arts Centre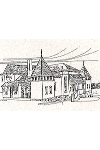 Community Arts Centre in a historical building. Two gallery spaces. Permanent home to weavers, potters and wood turners. Six artists spaces permanently used. Other spaces shared by 19 community groups. Short-term accommodation for 12 artists.
Address:
85 Vancouver Street, Albany, WA
Hours:
Mon-Fri, 10am-4pm Mon-Fri, Sat, Sun and public holidays open 1pm-4pm, Closed Christmas, Boxing and New Years Day.
Facilities:
Wheelchair access, gallery, shop, children's holiday programs, 2 x exhibition spaces, 5 artist spaces, short term accommodation x 11 beds for artists/ participants.
Collection:
270 works of art by West Australian artists over a 48 year period. Mainly contemporary works. Winners of the Albany Art Prize and bequests.
Items
Painting, oil on card
The Belgian Poet
Creator:
Kathleen O'connor
Watercolour
Gusts Across Emu Point