Wollondilly Heritage Centre
The Wollondilly Heritage Centre is both a Social History Museum of Wollondilly Shire and Burragorang Valley, and Family History Research Centre operated by volunteers from the Oaks Historical Society. The one-acre site includes a furnished timber slab and iron cottage, Bush schoolroom and orcharding exhibit in addition to a diverse program of changing displays and museum shop, and is close to beautiful Burragorang Lookout and scenic drives. Wollondilly Heritage Centre is the winner of The Western Sydney 2003 Tourism Awards for Excellence and Innovation in Heritage and Cultural Tourism.
Address:
Edward Street, The Oaks, NSW
Hours:
10am-4pm Sat, Sun and public holidays, or by appointment
Admission:
Adult $2.00, Child $1.50, Concession $1.50, Family $5.00, Schools program 'Hands-on-History' $5.00 per child
Facilities:
Disabled access, coach parking, education programs, research archives and library, museum shop, covered gas barbeque and undercover public areas, two kitchens, group programs, refreshments
Collection:
11,800 items and 3,100 photographs relating to the lives of working people in silver mining in Yerranderie, coal-mining, timber industry, agriculture and orchards, road and dam building. Includes community and family archival records, resource library, school histories, church records and archival videos.
Items
Agricultural machinery
Fruit Grader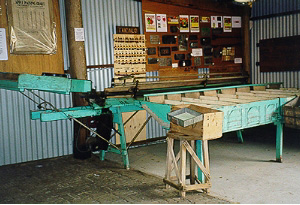 Creator:
Brown & Sons, Lidcombe
Description:
Hand operated timber fruit grader with electric motor added later. Purchased by Frank Swindale and used on his orchard on Russell Lane, Oakdale, to grade apples before packing them into crates. Machine is adjustable for different-sized fruit. Later purchased by G.A. Ratford and used to grade tomatoes on his vegetable farm.
Oakdale, Camden, The Oaks, Picton
Hessian silver ore container
Hessian bag to transport silver ore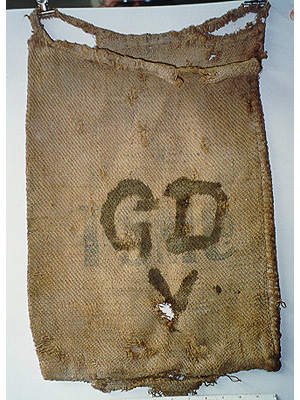 Description:
Commercial mining of silver in Yerrandene, NSW, commenced in December 1898. Until 1921, the ore was carried by horse teams, 9 tons of ore to a 14-horse team. The Sheldricks and Ganders began using Thornycroft and Leyland motor lorries in 1921. The bagged ore was carried to Camden railway and railed to Sydney to be sold to overseas smelters.
Yerranderie, Burragorang Valley, Broken Hill
Domestic appliance
Apple peeler, corer and slicer - 'Lucky Star'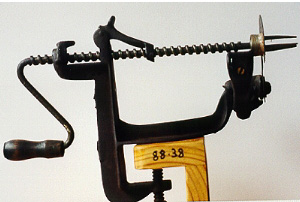 Creator:
Unknown American company
Description:
Purchased in 1925 from Whiteman's store in Camden for 7/6d by Mrs Ditton of Oakdale, orchardist. It was used by her to prepare dried apples which she later sold. Donated by her son Jim Ditton and now used in public programs at the Wollondilly Heritage centre.
Civic Souvenir
WWI Welcome Home banner
Creator:
Gertrude Jessie Shelley
Description:
Jessie Shelley made this banner for her nephew Francis William Vere Cabrera (1898-1936) to welcome him home from WWI at the family home, Wyuna, in Thirlmere, NSW. Jessie's parents had a grocer's shop at 1 Stephens St, Balmain.
Throsby Park, Balmain, Thirlmere
Child's set of five chairs and table
Description:
Constructed from hardwood saplings and bush timbers
Mr C. Smart of Cawdor, Camden, made set for his wife Thelma who taught singing and elocution for a play "Snow White and the Seven Dwarfs" - held in Camden A.H.I.S Hall. Donated by Mrs Hanger nee Smart, Mount Hunter.