Australian Stockman's Hall of Fame and Outback Heritage Centre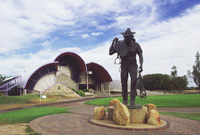 The Australian Stockman's Hall of Fame and Outback Heritage Centre recalls those familiar features of the Australian landscape - corrugated iron roofs, water tanks, silos, wool sheds and shady verandahs. The interior features a vaulted ceiling and displays designed to reflect the wide-open spaces, colour and character of the outback landscape they celebrate.
The Australian Stockman's Hall of Fame and Outback Heritage Centre has now proven itself to be the envisaged tourism destination. Longreach is a pivotal point on the Tropic of Capricorn, linking the Reef in the east with Uluru in the west and the Gulf country to the north. It features five display galleries; interactive and multimedia presentations; the RM Williams Library and Resource Centre situated in the Bruce Yeates Memorial Cottage; collection on display; Unsung Heroes project; children's discovery area and a introductory theatre presentation.
Address:
Landsborough Highway, Longreach, QLD
Hours:
Monday - Sunday 9:00am - 5:00pm. Closed Christmas Day.
Admission:
Adult $20.00, Concession $16.50, Child $10.00 (under 8yrs & members free), Family $45.00.
Facilities:
Wheelchair Access, Café/Restaurant, Kiosk, Reference Library, Theatrette/Lecture Hall, Shop, Brochure/Information Materials.
Collection:
The main collection subject areas are stockwork and saddlery parts and tools; outback communication, including telegraph and telephone parts and machinery; transport history, relating to wagons, horses and camels; domestic equipment; clothing and other textiles; bush recreations, including sports and craft; and general items relating to rural society and industry. Included in the collection is a large component of archival material, station records, correspondence, poetry, diaries, and ledgers from throughout Australia, dating from as far back as the mid 1800s. Also featured in the collection and on display is the museum's photographic archive, containing approximately 11 000 images from Australia's rural history.
Items
Bronze Sculpture
The Ringer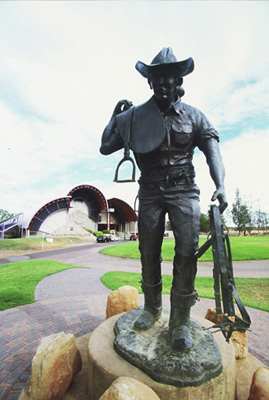 Description:
Created by well-known sculptor Eddie Hackman in 1987, 'The Ringer' sculpture stands prominently at the front of the Australian Stockman's Hall of Fame and Outback Heritage Centre. The sculpture was adapted from the 12 cm tall 'Ringer' of Hackman's 'Outback Character' series, in to a three metre high solid bronze memorial to the 'bronzed hero' of the outback. The term 'ringer' in this instance refers to a stockman of the northern Australian cattle industry. It is derived from the occurrence of 'cattle ringing' when being yarded. The Ringer is clothed and equipped like many of the stockworkers in the Northern Territory during the 1950s and earlier. His hat has the 'Territory bash' and around his waist he carries bull straps to tie down feral scrub bulls. The horn saw on his saddle is used to remove horns to save his horse from being gored. On his belt he carries his watch, pocket knife and wax vesta matches in pouches. He wears elastic-sided, cuban-heeled boots and spring-sided leggings. On his shoulder he carries a large thigh pad Poly saddle with a Barcoo bridle in his left hand.

The artist, Eddie Hackman, worked in the stock and droving camps of the Northern Territory for over 20 years, giving him a first-hand knowledge and appreciation for the lifestyle that he represents in the artwork
35 foot B pattern windmill
Comet Windmill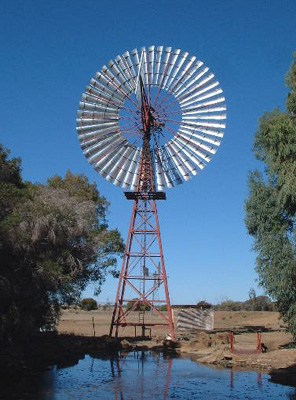 Creator:
Sidney Williams and Co Pty Ltd
Description:
This windmill was manufactured by Sidney Williams and Co Pty Ltd, one of the earliest makers of this type of windmill in Australia. The 35 foot B pattern windmill, of which only 15 were made, is the largest model ever made by that company. It was designed to lift large volumes of water from artesian bores in which the original flow had been reduced due to natural causes. This particular windmill (no. 105) was sold to Harry McIntyre in 1915 and used to irrigate sugar cane. That proved unsuccessful and the windmill was sold in the early 1920s to the Logan Family of Cressy Downs.
Stockworker items
Norm Whatley collection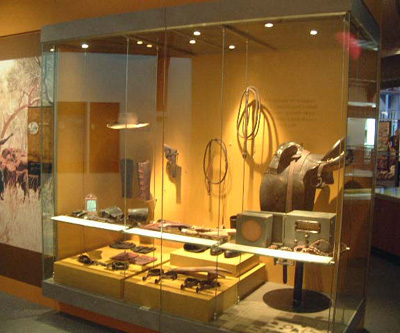 Creator:
Whips, sombrero hat, boots, leggings by RM Williams Pty Ltd; other components hand made or altered by owner; saddle by Hill Giltrow.
Description:
Norman Whatley spent his childhood learning the ropes on his family's cattle and sheep property in the Brigalow country of western Queensland. In 1949, aged 19, he rode 'over the range' to a job as a stockman in the wild Kimberley. For four years he worked 16 hours a day in the rugged ranges and gorges, mustering brumbies and herds of up to 25 000 wild cattle, branding the cleanskins and droving the marketable bullocks to Wyndham and Broome. He rose to the position of head stockman, before returning to manage properties in central Queensland. A number of the items he used in his everyday work are displayed in this showcase.

"It was a great life for a single man, and a rough one which I wouldn't have missed for anything."
- Norman Whatley, 2003.
Properties in Northern Territory and Queensland.
Smoky Dawson Collection
Smoky Dawson Collection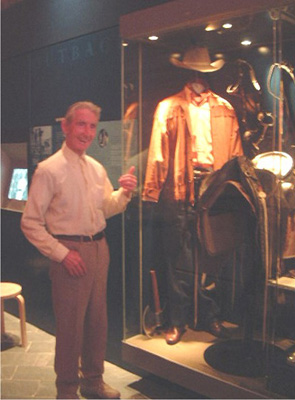 Creator:
Performance jacket made by RM Williams Pty Ltd; revolvers made by Colt; throwing axes and knives made by Smoky Dawson.
Description:
Herbert Henry 'Smoky' Dawson is a real showman and crowd pleaser. He has been a rodeo cowboy, whipcracker, soldier, radio host, author, songwriter, musician and knife thrower. Of the many knives and battle axes he has thrown at willing human targets, he never struck a participant, although some blades came very close.
Wool Wagon
Bullock Wagon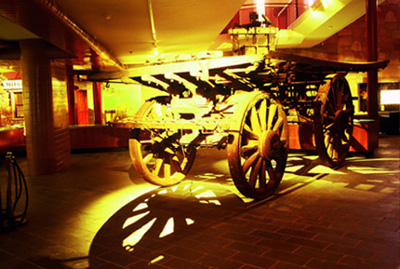 Description:
Made of hard timbers for strength and designed to withstand the roughest conditions, bullock wagons carried huge loads over long distances and difficult terrain. Teams of men were needed to load the wagons, but fewer were required to travel with the load. Tracks cut through thick scrub and over solid ground helped minimise the chances of getting bogged. This wagon was used in the Ilfracombe area until the 1950s to carry, among other things, wool to the train, and also chicken wire and disused farm items. It was used on "Baratria" station which was part of the original 'Mackenzie and Smith' franchise.
Ilfracombe, Longreach, Queensland