Quilt No.1029JL - Joyce Lannin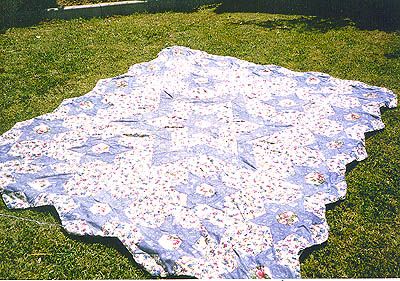 Description:
The centre of the quilt is a small blue 6 pointed star surrounded by a larger blue star. Blue stars also form a border to the quilt. The background material is a multicoloured small floral pattern on white cotton. The quilt is all hand worked over templates. The padding is cotton and the backing is polyester sheeting with a border of stars.
2650 x 2475 mm
History:
The quilt was made by Joyce Lannin at Lake Grace, Western Australia in the 1960s. It was made for her grand-daughter Danielle Ruth England. Danielle owns the quilt and it is still used.
Story:
Joyce Lydia Lannin. "As long as she can remember Joyce has had an interest in sewing. As a small child she sat and watched her mother sewing at the machine or doing fancy work by hand so it is not surprising that she soon had a needle and cotton in her hands
When her mother began doing patchwork it was no wonder that Joyce took an interest in that too. From her mother she obtained her first hexagon template and was soon spending all her spare time sewing medallions together to make her first quilt. She worked the medallions in patterns as the ideas came into her head with the result that the quilt is very beautiful. At this time there were no books as it was before patchwork became popular.
After completing the first quilt Joyce decided to make a quilt for each of her four granddaughters. These quilts were made with large patches forming stars in the colours of their bedrooms. They are all different as the patches are arranged differently and thus each has its own appearance."
�������.."Joyce has only made her quilts from patches she has in her scrap box. They have all been made by hand and sewn by hand. The backs are all made from sheets with a row of patchwork flowers at the edge." [Joyce Lydia Lannin]
Related Quilts:

" Double bed size coverlet made of white cotton 'blue bags' fabric (white cotton squares used to hold a measured amount of blueing agent used to keep linens white during the laundering process). Patches are sewn together in the 'Suffold Puff' style - a circle of fabric is gathered up to make a puff. Patches are joined by a few stitches on four sides. Coverlet is edged with a deep crochet fringe, to a depth of approx. 18cm on all four sides���On lining is written in black ink: 'C.Bleagard Baby Ken'. " [NT NSW]
2570 x 2380mm

This unfinished cover has a centre frame of a simple block. There are alternating plain and patterned borders including sword tooth, flying geese and squares on point. It is hand pieced with plain and twill weave cottons, variety of stripes, checks, florals and plains. There is no backing.
1800 x 1800mm

Crazy patchwork quilt with pieces made from cottons, rayons, silks and taffetas. Each piece is stuffed with kapok and machine sewn to a backing then a wholecloth floral cotton backing has been added.
920 x 164o mms

Handsewn cotton hexagons in a wide variety of patterns. Centre oval of hexagons with 2 outer rings. There is no padding and the backing is white cotton.
2490 x 2200mm

Patchwork quilt for a child made from suiting pieces from the Castlemaine Woollen Mills in Victoria. One side has dark rectangles in greys and navy, the other side uses pieces in light browns, cream and rust, with dark grey. The edging is also made from suiting. No padding Machine sewn.
1347 x 1271mm

Patchwork quilt has three centre squares, one in blue/white/brown in a cross pattern, one in framed square, one with diagonal strips in a pink frame. The rest of the quilt is made from strips of rectangles in different sizes sewn in rows. There is a narrow pieced frame, then an outer border of pieced rectangles. Mostly pastel colours. No padding. Backing is calico. There is a little embroidery.
2160 x 1601mm