Quilt No.320BVS - Brisbane Valley Historical Society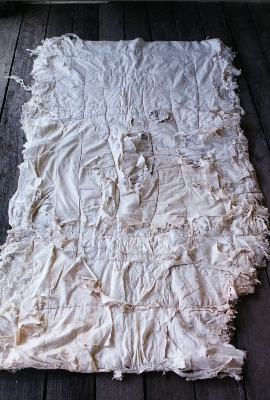 Owner:
Brisbane Valley Historical Society
Description:
Quilt is made from layers of complete clothing covered with calico and stitched through all layers by machine. Clothing used includes a full skirt, a shirt, and a nightgown. All fabrics are cream. Cover has been replaced by others as the calico wore. White ants have eaten part of the quilt, exposing some of the clothing used as padding.
1880 x 1067mm
History:
Made by Mrs Anna Bishop, of 'Swansdown', Linville Qld, c.1910. Previously owned by her son, Eric Bishop, who gave it to Hetty Van Boven in 1986. Owned by the Brisbane Valley Historical Society, at Caboonbah Homestead, Toogoolawah Qld.
Story:
"The wagga was constructed by layering whole garments in a rectangle, covering with unbleached calico and machine stitching through all layers.
Son Eric recalls: 'After the girls left home, I had to help pull the wagga through the sewing machine. Too fast and Mum's needle would break, too slow and the wagga wouldn't go through the machine. Either way, I was in trouble.'
Now the white ants got to the edges, several garments can be identified: a lace trimmed, flanelette nightie, a wide skirt trimmed with braid and a fine cotton shirt with black and white trim. As the calico wore, another layer was simply added."
[Note from museum.]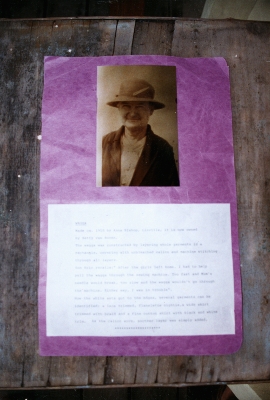 Related Quilts:

Wholecloth pram quilt with a top of pink cotton sateen, and the reverse is a more finely woven, ivory, fabric. All over quilting design as main feature, with stylised hearts, leaves and cross hatching. The padding is cotton batting. 870 x 660 mm.

Hand stitched, cotton, appliquéd, quilt in a flower pattern on a plain background. Colours are shades of green, apricot and browns. This quilt was known as a 'Bride's Quilt'. Padding is thought to be layers of white fabric raised almost like a wadding. The backing is cotton material. 2470 x 2020 mm.

Wholecloth cover in synthetic rayon. Centre plain, drop slightly gathered, edging border is large saw tooth appliqued pieces in flannelette, striped seersucker, crepe de chine. Materials typical of the 30s through to the 50s. The appliqued triangles are chain stitched in yellow thread which also anchors them to the backing.
2450 x 1940mm

Quilt made of tailors' swatches, machine constructed around a central frame that is mainly mid brown pieces. This is surrounded by rectangles of mainly charcoal greys and the outer border is navy blues. The backing is a heavy cotton with random green and cream and grey stripes.
1651 x 1220mm

This Adelaide Chronicle wildflower quilt has alternating squares of green and fawn headcloth embroidered with Australian wildflowers on the fawn squares and stylised floral motifs on the green squares. It is bordered and backed with the same green material. It is padded.
2350 x 1530mm

Double sided square quilt. One side is a crocheted rug. The centre of this is 4 triangles joined and from this coloured bands in crochet radiate out to the border. The other side is randomly pieced scraps of mainly woollen material in checks, plains and tartans. Machine construction.
1600 x 1600mm