Quilt No.491BS - Bob Sloan
Description:
Double sided quilt made from all wool worsted suiting samples. Machine construction. There is no padding.
1840 x 1330mm
History:
This quilt was made by Bob Sloan and is still owned by him. It was made as a camping rug and is still used as this.
Story:
"I started working in his father's tailoring and men's wear store in Murray Street Wangaratta in 1941. During the quiet times I dismantled suiting pattern books and machined them into areas large enough for this quilt. It was intended as a camping rug at the time, and is still used as such to this day." [Bob Sloan 14.6.11999]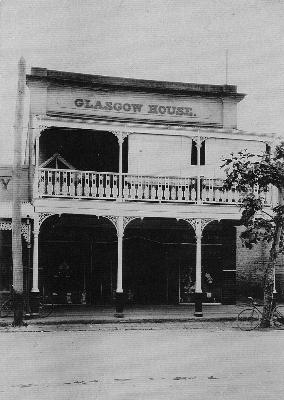 Related Quilts:

Rectangular patchwork crazy quilt pieced in squares (3 across by 4 down), in silks and wool, with red sashing between blocks and red border, quilted. Colours are dark, with red and light blue. Embroidery includes double feather, rope, herringbone, satin, cross, sword edge, buttonhole and coral stitches, and French knots. Embroidered flowers include lily of the valley, rose, daisy, and sunflower, also butterflies. Backing is pieced in the frame style, with a large centre red square, within 10 frames or borders. Embroidered "In Most Loving Memory of My Darling 1883", "V.H.B." Hand sewn.
1900 x 1500mm

Friendship Quilt'. All cotton with thick cotton padding. Each of the large panels of patchwork is different and many are signed by the makers who belonged to the Rebecca Lodge in Linwood California. Dates on the squares with signatures are 1933. Wide variety of colours and patterned and plain fabrics. The quilt is now in 2 pieces.
1981 x 1727mm

Wool patches in large Tumbling Block pattern. Plain colours, blues, orange, gree, red. Seams are over embroidered with silk thread in herringbone stitch. Backing is 'Molleton', red with yellow pansy design.
2490 x 2236mm

Utilitarian quilt. Padding consists of recycled hand knitted jumper pieces (mainly 3 ply crepe and 8 ply) tacked to a layer of cotton material with strong buttonhole twist thread. The top is a piece of cotton fabric. Machine quilted in rows approximately 70mm apart.
1827 x 1423mm

Square quilt top. Floral centre piece with borders of squares set in a diamond pattern. Squares are in plain colours and patterns. There is no padding or backing.
920 x 920mm

Machine sewn quilt made from 125mm squares of scraps left over from dressmaking joined in strips and then the strips joined. There is a border of fawn cotton and the backing is the same material. The padding is an old blanket and the border is padded with sheep's wool.
1400 x 925mm