Quilt No.366ES - E Shuttle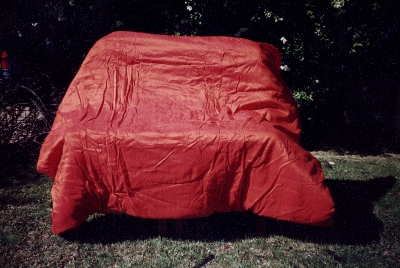 Description:
Wholecloth quilt made from orange cotton cretonne for back and front. Padding is made from old blankets stitched together. The quilt weighs 16 lb.
1423 x 1118mm
History:
Maker and place of making unknown. Owned by Mrs Shuttle since the late 1930s. Previously owned by her husband's family.
Related Quilts:

Wholecloth pram quilt with a top of pink cotton sateen, and the reverse is a more finely woven, ivory, fabric. All over quilting design as main feature, with stylised hearts, leaves and cross hatching. The padding is cotton batting. 870 x 660 mm.

Hand stitched, cotton, appliquéd, quilt in a flower pattern on a plain background. Colours are shades of green, apricot and browns. This quilt was known as a 'Bride's Quilt'. Padding is thought to be layers of white fabric raised almost like a wadding. The backing is cotton material. 2470 x 2020 mm.

Double sided quilt machine made from clothing scraps. Shapes are mainly rectangles in corduroy and wool blend. The padding is an old grey blanket.
1524 x 1372mm

Wholecloth quilt of fine cream homespun embroidered with red and white stranded cotton. It is a cross stitch design of roses pre stamped on the material. The quilting consists of a fern pattern medallion in the centre, straight lines and a fern pattern border. The padding is fine wadding and the backing is white sheeting with a small floral pattern,
2160 x 1650mm

Wholecloth quilt made from deep pink satin. The quilting pattern is a centre circle with a stylised flower surrounded by crescent shapes. This is set in a square and there is a fan design in each corner. Parallel lines create a border. There is a frill on all sides of the quilt. The padding is raw cotton.
2000 x 1770 mm

Domestic Wagga made from sugar bags joined together and covered with army blankets. Machine construction. Patching evident. Sugar miller's brand visible on one bag: " M--AQUIN, 70lbs, --- SUGAR, BUNDABERG"
1753 X 1347mm