Quilt No.397MB - Marlene Boutwell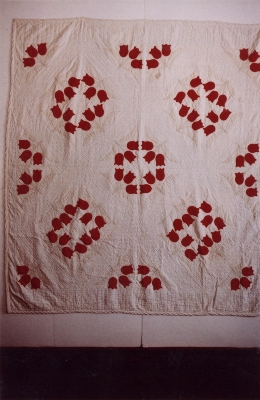 Description:
All cotton quilt of machine pieced repeat blocks with groups of hand appliqued tulips and green leaves that have faded to ecru. The blocks are sewn together in rows in a floating pattern. It is padded and quilted and there is a cotton backing.
1970 x 1760mm
History:
The owner purchased it in a New Hampshire quilt shop in 1961.
Story:
This quilt was bought in New Hampshire in 1961 as a surprise engagement present for Marlene McIntosh (Australian) and Earle Boutwell (Canadian).
Related Quilts:

Frame quilt or coverlet with centre frame surrounded by floral printed panels. The centre is cotton chintz block printed material in madder colours. It is hand quilted.
2700 x 2700mm

Double sided square quilt. One side is a crocheted rug. The centre of this is 4 triangles joined and from this coloured bands in crochet radiate out to the border. The other side is randomly pieced scraps of mainly woollen material in checks, plains and tartans. Machine construction.
1600 x 1600mm

Quilt top in postage stamp pattern typical of military quilts. 5 x 5 blocks each 280 x 280mm. Colours are predominantly red, black and cream. Thought to have been made using uniform material from the Crimean war
1350 x 1350mm

One of a pair of patchwork quilts machine sewn from squares of cottons and silks in pinks, aquas and blues in plain and print materials. Both quilts are similar. The backing is white cotton. There is no padding.
2200 x 1500mm

Rectangular patchwork crazy quilt pieced in squares (3 across by 4 down), in silks and wool, with red sashing between blocks and red border, quilted. Colours are dark, with red and light blue. Embroidery includes double feather, rope, herringbone, satin, cross, sword edge, buttonhole and coral stitches, and French knots. Embroidered flowers include lily of the valley, rose, daisy, and sunflower, also butterflies. Backing is pieced in the frame style, with a large centre red square, within 10 frames or borders. Embroidered "In Most Loving Memory of My Darling 1883", "V.H.B." Hand sewn.
1900 x 1500mm

Patchwork quilt of hexagon patches (3.5cm sides approx), handsewn, in cotton fabrics in sprig prints, stripes, checks, florals and plains. Colours are pre-aniline dyes, in lavender, green, red, beige and purple. Centre of quilt is pastel colours with a central patch embroidered in red: 'Elsey Rowbotham her work May 1 1869'. Quilt has a wide border of squares and triangles.Padding is thin cotton. Backing is off white calico. Quilted in parallel lines.
2693 x 2490mm